How To Schedule Social Media Posts?
Post scheduling not only streamlines and automates the scheduling process, but it also allows for greater flexibility and consistency.
""Social media platforms provide businesses with an opportunity to market their products cost-effectively. While this marketing approach might seem pretty straightforward, most marketers miss out on the most basic things.""
For example, it's always important to post at the right time. But you can't always be there to determine when your customers are visiting their social networks so you can post your content. This is where the importance of social media management software comes in.
Social media management software helps to automate the posting and scheduling process. You don't have to worry about the right time to post or how frequently you should post. Once you set the right parameters, the software of your choice will handle the rest.
If you're new to the concept of scheduling social media posts, this brief guide will provide you with a simple solution. Read on.
Scheduling Social Media Posts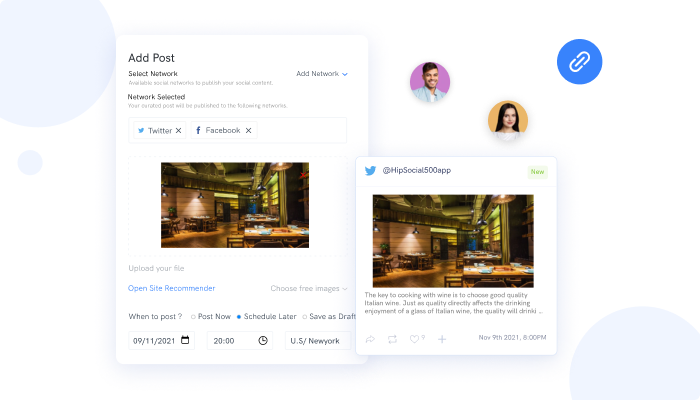 Before we jump to the software you should be using for social media scheduling, let's look at how you should schedule your posts. The 'how' here involves determining the right time to post. How should you go about this?
1. Know your audience
For any posts you plan to share, it's always vital to consider your end-users. These are the people who will interact with your posts. So, you need to ensure you post content that resonates with them. Knowing your audience helps determine the specific times when they are most active on social networks to schedule appropriately. Another crucial factor here is knowing the social networks they prefer using. All these details can be obtained from a reliable social media management software. The insights collected help you know when to schedule and which specific social networks.
2. Regular content is key
Scheduling isn't just about posting once a month. To succeed in social media marketing, you must keep your audience engaged. This means ensuring you post regularly. Posting more often is more likely to increase your brand mentions, positively impacting your SEO rankings.
3. Plan your campaigns early
It would also help to plan early for major campaigns you wish to share across your social networks. Again, use reliable social media management software to keep everything organized and well scheduled in advance.
Best Social Media Scheduling Software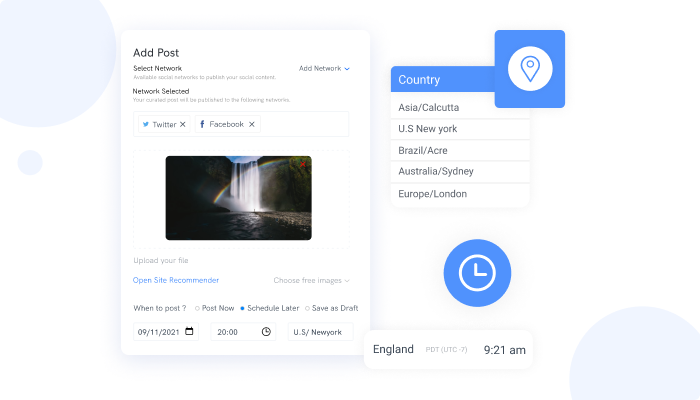 The easiest way to schedule your social media posts is by using technology that automates the process. Which software is ranked best in the market – HipSocial.
HipSocial allows you to effortlessly schedule all the posts you need across various platforms like Twitter, LinkedIn, Facebook, etc. You can also take advantage of advanced features like social listening user engagement and automation features to ensure that your posts are scheduled in the best way possible. Another thing that makes HIPSocial worth trying is that it offers comprehensive integrations. You can integrate with other popular CRMs, helpdesk, photo marketplaces, and other project management apps. This is an essential factor as it allows you to work using a single platform while handling everything efficiently.
Benefits of Social Media Scheduling
Boost your Social Media Marketing Efforts Sign Up FREE for 10 users
""Why is social media scheduling important for your business? Good question!""
One of the main reasons you should think of scheduling your posts is that it gives you more time to handle other tasks in your business. For example, you don't have to waste time figuring out when your clients will be online to check your posts. This is automated, so you have more time for other complex activities.
Automating the scheduling process also paves the way for flexibility and consistency. Your customers will be thrilled with your content if you keep posting more often. Besides, consistency helps ensure the algorithm works in your favor. Too many apps, consistency is perceived as a sign of quality.
Conclusion
Generally, there is nothing strange with scheduling your social media posts. All you have to do is find the best software that meets your business needs.