9 Best Social Media Automation Tools to Boost Website Traffic
9 best social media automation tools to boost your business website and the significant benefits of employing social media management software in 2021.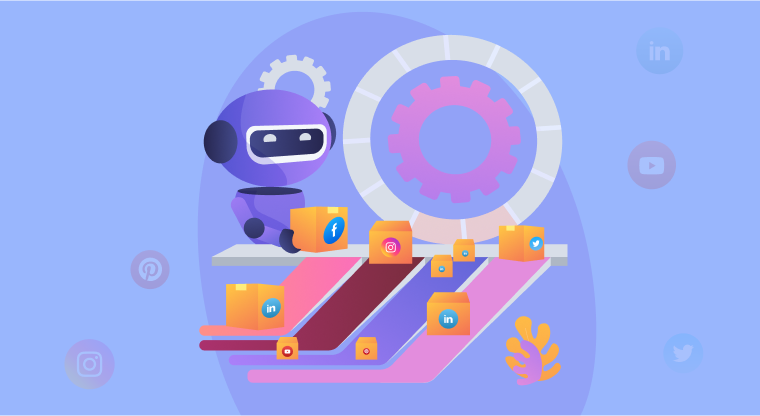 Traffic in social media refers to the number of visits your website, mobile site, or app gets from social networks. Businesses have come to understand the importance of traffic for their online presence. More visits mean more people interacting with your posts, which subsequently increases your chances of making sales. Traditionally, a credible social media engagement is achieved by inviting people manually, interacting with the audience, urging users to share, and many more. This has proved to be not only tasking, but it requires a lot of dedicated resources.
"I use social media as an idea generator, trend mapper and strategic compass for all of our online business ventures." – Paul Barron
Why Social Media Automation is Required?
Getting people to your website through social media engagements can be tricky; it requires a lot of expertise and practice. Also, because the results are up to chance and take a long time to appear organically, you might need to invest a lot of resources to get traffic to your website. As a business owner, you get to take up a more supervisory role in social media monitoring and social listening. You save time and are now able to focus on more important tasks.
The software world is moving towards an era where automation replaces manual labor. Social media automation saves you a lot of stress, time, and resources with guaranteed results. When used correctly, automating a social media campaign can achieve very impressive results. For example, in email marketing, businesses now automate email campaigns for good reason. The statistics from OptinMonster say that automated email campaigns get 119% more clicks than manual campaigns and boost conversion by 60%.
List of Social Media Automation Tools
To get the best website traffic out of your automation tools, you need to recognize the best products on the market. We have compiled a list of the best nine software that will help you achieve great results. We weighed their effectiveness, reviews, and cost of implementation.
1. HipSocial
HipSocial is a convenient social media management tool that turns your blog posts into engaging social media campaigns. Immediately, you connect your blog via a 500apps account, and you can engage your audience 24/7 with updates and posts. When it notices new blog posts, the tool generates a social media campaign.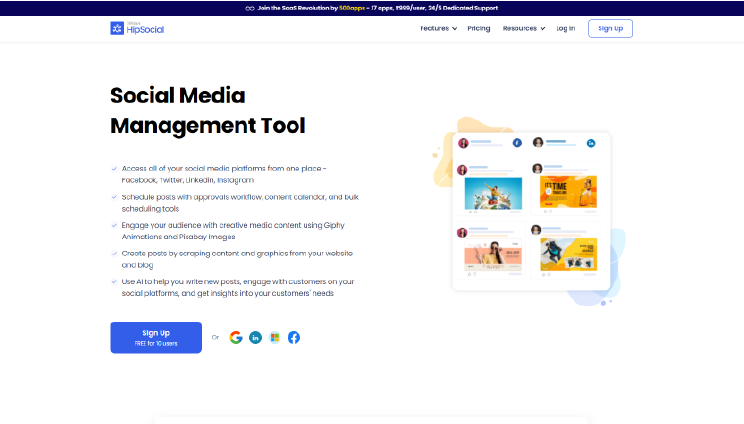 The software uses AI and Machine Learning to peruse your blog post, and scan for quotes, keywords, content, and imagery that it believes will do well on your social media platforms.
With HipSocial, you get prompts via email to monitor and adjust your social media campaign. The software also has great features like the new Curate feature that sources content to share with your audience, default campaigning, repetitive posting, and many more.
Boost your Social Media Marketing Efforts Sign Up 14 Day Trial
2. SocialPilot
SocialPilot is a social media automation tool for businesses—small, medium, and large corporations. You can enjoy a lot of features with this tool. Some of these features include social media scheduling, calendar management, client management, and many more.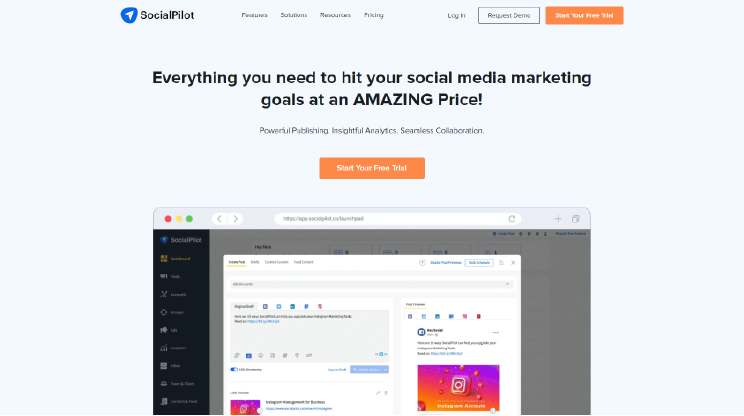 Also, SocialPilot integrates all social media platforms, including LinkedIn, Twitter, Facebook, Direct Publishing on Instagram, and Tiktok simultaneously. Most importantly, SocialPilot offers users a social media monitoring feature. This tool helps you monitor your campaigns. You can add filters to your calendars and group your social media accounts for easy monitoring. Even more, the social media planner allows users to drag and drop their social media content library. The schedule is subject to change, so you can easily reschedule them.
You can enjoy a 14-day free trial period before using any of their plans. The plans include a $30/month Professional plan, a $50/month Small team plan, a $100/month Studio plan, a $150/month agency plan and a customized Enterprise plan, where you can ask for a quote based on the features needed.
3. Hootsuite
Hootsuite is a social media automation tool popular amongst marketers. It has a great interface and features that make it compatible with lots of social media platforms. However, Hootsuite targets only big-sized enterprises because of its complex features and pricing. If you own a large establishment, you should consider Hootsuite, and the ROI outweighs the cost.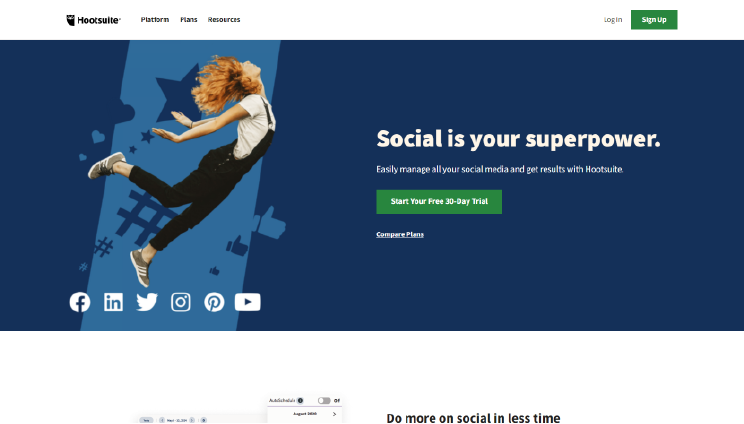 Hootsuite also allows you to monitor several social media platforms at once. You will also be able to monitor all your social media platforms with real-time updates. The software notifies you once your brand is mentioned, as it keeps track of your brands. Hence you can actively know what consumers are saying about you and interact accordingly. Ultimately, you will increase your social media engagements. They also offer approval workflow which helps to increase collaborations and reduce errors.
4. Zapier
Zapier is a social media automation tool with mind-blowing potential. Zappier uses Zap, which you can trigger with a predefined set of rules. You can start a workflow by triggering your zap and letting the software complete the action automatically so you can focus on important work. The software has an existing database of zaps you can use and create your own. Zapier offers a limited free plan and a wide range of premium pricing plans starting from $19.99 per month.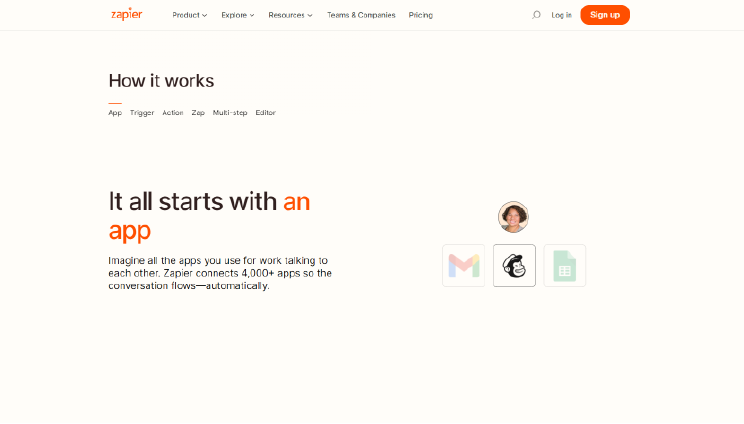 5. BuzzSumo
BuzzSumo is a vital engagement tool if you want to understand your content management strategies better. With BuzzSumo, you do not have to rack your brain to develop a topic for your content. The software automatically discovers some of the popular keywords in your line of trade and the publishers. All you need to do is develop related content.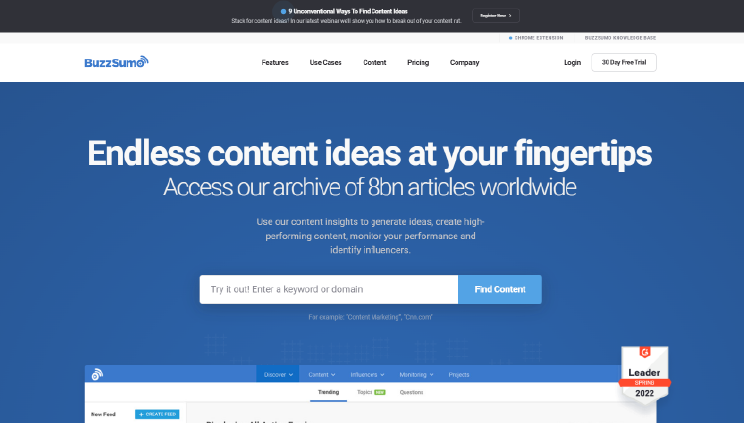 The software is quite popular because of its in-depth insights into what your competitors are doing. It would be best to use BuzzSumo to stay ahead of the competition and be a savvy content marketer.
Also, you can filter your results to tailor them to what you want—from duration to location. The software has an analytic option that collects analytics from all your social media platforms.
6. Buffer
Buffer is one of the most famous social media monitoring tools because it offers users scheduling functionality. This social media management is very effective on social media platforms like LinkedIn, Twitter, Instagram, and Facebook. Also, Pro customers can enjoy the Pinterest feature. The higher your pricing package, the more social media accounts you can connect with Buffer.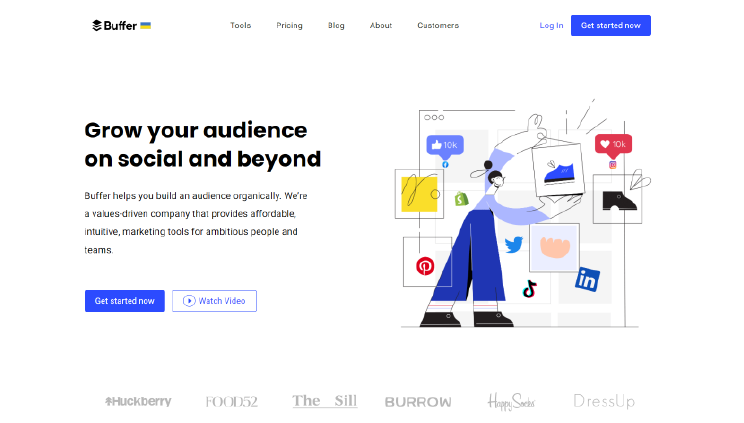 The scheduling functionality offered by Buffer helps you to match your needs. The social media automation tool supplies users with four slots daily to schedule their posts. You can increase or decrease the number of slots you have depending on the quantity of social media posts.
The software also has extensions on popular browsers like Safari, Chrome, Firefox, etc. so, all you need to do is schedule your posts by clicking the Buffer icon on your browser. Additionally, the tool is also available as an application for Android and iOS.
7. CoSchedule
CoSchedule is a social media automation tool designed to achieve efficiency for solopreneurs and marketing agencies. The software integrates with WordPress and pushes content to your favorite social media platforms.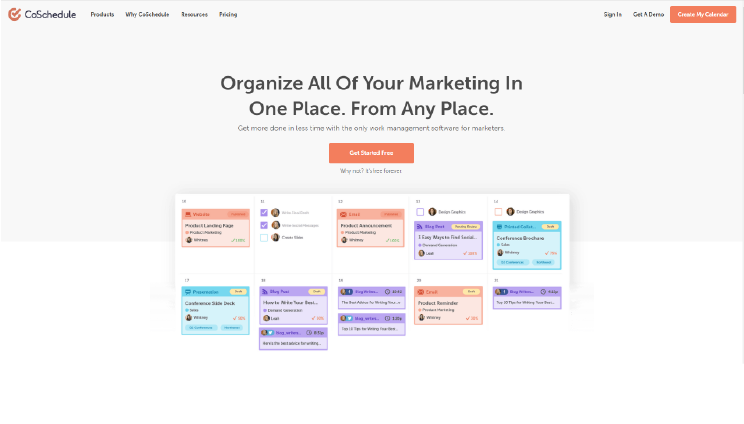 The software offers social media analytics feature. The feature offers insights into your social media engagements on social media if you are curious about how your marketing campaigns are doing and helps them.
Most notably, you can reschedule your most effective content with the 'ReQueue' tool. This feature keeps your customers' feed fresh with new updates.
8. Sendible
You get to manage and automate your social media channels with the Sendible social media automation tool. The software not only lets you do one-on-one campaigns on different social media accounts from your dashboard, but you can also manage how your campaigns should be.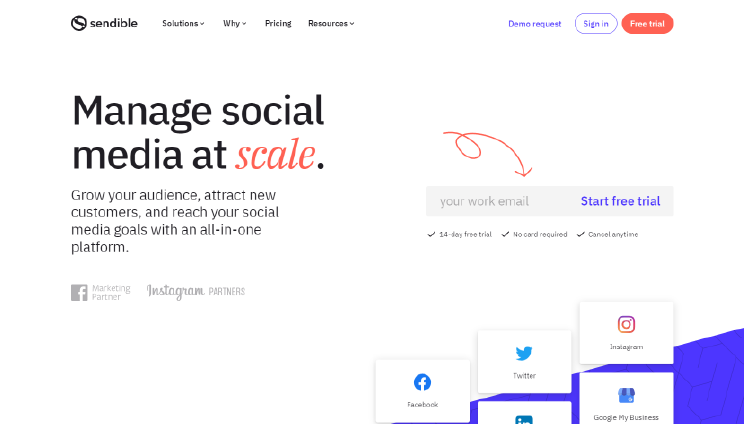 The software has content scheduler allows scheduling for a sizeable period, a week, a month, or as long you need. This feature makes Sendible quite popular with businesses. With this, you can stay off social media while your automation tool does the work for you.
Also, you can suit your content to several social media platforms by using features like emojis, attachments, and many more.
9. agorapulse
agorapulse is an all-in-one social media monitoring tool. The software encourages collaborative work among teams. You should consider this software if you look to schedule, reschedule, queue, or bulk upload your posts. They have many other features to fill your content calendar.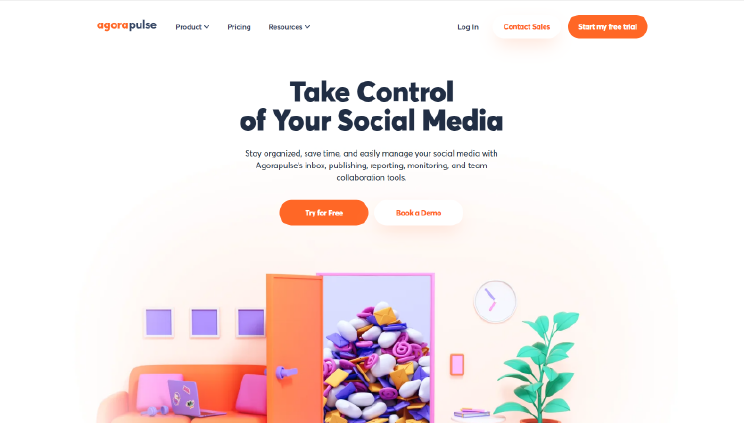 Also, the social media automation tool has a social inbox it uses to catch every conversation. You will be provided with one-click reports. The software supports social media platforms like Twitter, Facebook, YouTube, Instagram, and LinkedIn.
Effects of Using Social Media Automation
Automation allows your business to run social media strategy more seamlessly and efficiently across multiple networks. However, it is important to use the right strategies with your software to maximize your business potential and return on investments. You should note that, if poorly done, automation can and will fail you. Here are some effects the use of social media automation will have on your business.
Improved Interrelation and Efficiency between Marketing and Sales Departments. Both of these departments are mostly at loggerheads. They both rely on each other to do their jobs correctly. If there is a lack of communication, your business will lose leads, sales, and revenue. With social media automation software, the two departments can efficiently work together.

Constant Improvement Through Consistent Feedback. As your automation software works, it continually analyzes every piece of social media engagements, conversions, sales, and information. The software keeps track of what works, what doesn't, and who is buying it. Hence, social media automation helps you to adjust your marketing strategies based on the information continually. So, you can improve as you go without manually having to engage your customers.

Save Time and Reduce Redundancy. Manual social media monitoring can be a very tasking effort, and in most organizations, it is the job of a dedicated staff member. With social media automation, you save time and money by doing less tedious and demanding things. Also, unlike you, automation software can handle many clients with different ideas on different channels simultaneously.
Using automation tools to handle your social media strategy can be costly, requires regular maintenance, needs a lot of information, and many more. However, the ROI would be noteworthy in the long run, and the results would far outweigh the human and financial implications.
Conclusion
"We have technology; finally, that for the first time in human history allows people to really maintain rich connections with much larger numbers of people." – Pierre Omidyar
As earlier stated, the world of social media marketing has experienced noteworthy evolution to become irrelevant to your audience; you need to be proactive. Thus, you need the best social media listening tool to make an enduring impression on your customers. The list above is well prepared, and each software is top-notch, though they might vary slightly in what they offer.
What Makes the Best Social Media Management Tool?
#1
Manage all social media channels in one place
#2
Add unlimited projects for multiple clients
#3
Create and publish posts on all social media channels
#4
Configure multiple streams like Twitter pages, Instagram posts
#5
Plan and schedule bulk social media posts
#6
Access reports for a detailed overview of day-to-day accomplishments
#7
Fetch content, images from various sources using web scraper
#8
Integrate with various third-party applications like CRM, social media apps and more
#9
Unbelievable pricing - the lowest you will ever find
#10
Everything your business needs - 50 apps, 24/5 support and 99.95% uptime
Join the SaaS Revolution
All-in-One Suite of 50 apps

Unbelievable pricing - ₹999/user

24/5 Chat, Phone and Email Support