Schedule Facebook Posts to Improve Customer Engagement
A social media scheduler is software that enables you to plan your posts across several social media platforms and accounts.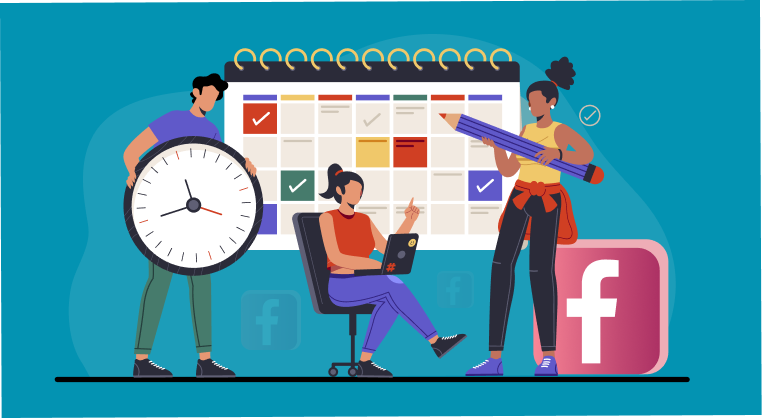 It can be difficult to increase your Facebook audience organically. Almost all brand marketers are concerned about the platform's organic reach. The rivalry on the site is also increasing as the audience grows. Every brand is giving content marketing their best effort. On Facebook, though, how can you maintain consistency and relevance? Through the use of a feature called schedule Facebook posts.
Marketing professionals now prefer to schedule Facebook posts in advance. Utilizing a Facebook planner will enable you to improve your content while saving time. The organic reach of your brand may be indirectly impacted by the feature to schedule Facebook posts. Lack of consistency on the platform is the most frequent factor affecting a brand's organic reach. Other significant factors in why a brand does not achieve the desired reach include posting at odd hours and failing to monitor user behavior.
These problems can be greatly reduced if we know how to correctly schedule Facebook posts. Discussions about Facebook's decreased organic reach have been going on for a while. Marketing professionals claim that while platform advertising has grown, organic reach has decreased. The site is also known for providing consumers with pertinent content, thus your content must be deserving enough to appear on a user's feed.
Posting the best content at the ideal time and boosting your posts are the two best ways to combat Facebook's modified algorithm. We'll explain how to schedule Facebook posts and how they can aid in increasing organic reach in this blog.
Benefits of Scheduling Facebook Posts
You may be saying to yourself, "My Facebook updates are fine. Why do I need to alter it?" Here are the top three advantages of scheduling your Facebook posts as opposed to manually posting them.
1. Maintain Consistency and Quality
The main advantage of scheduling your Facebook updates is that it keeps the caliber of your postings consistent and high. both quantity and calibe. You are effectively making a plan when you schedule Facebook posts.
For instance, you may plan to write all five of the upcoming week's pieces on Monday. You won't miss posting something even if you are busy because you are social media scheduling the posts to be published automatically — consistency. Additionally, by spending time planning your posts in advance (as opposed to coming up with ideas on the fly every time), you may produce content that is of a higher caliber.
2. Reach a Wider Audience
Facebook direct publishing is typically permissible. until you choose to post at a time that is outside of your standard business hours in order to reach your viewers at different times of the day. You might have to leave your dinner to press the publish button. The alternative of waking up in the middle of the night would be worse.
If you schedule your posts, they will automatically go up at the times you choose. It will appear to have been manually published whether it is 2 am or 7 pm.
You'll be able to interact with more people who use Facebook all day long by doing this with content calendar. Firms having an international clientele as well as local businesses will benefit most from this.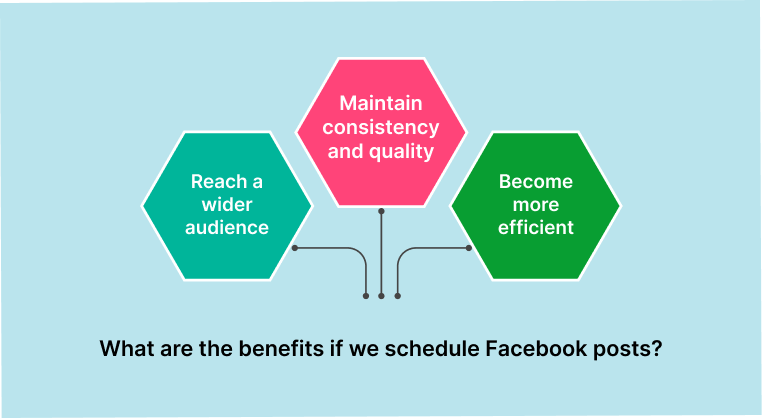 3. Become More Efficient
And finally, the feature to schedule Facebook posts can help you sell your business better.
The American Psychological Association reports that a number of studies have shown that multitasking lowers productivity. While it may not seem like much to move between writing a Facebook post and your other daily duties, research has shown that "even small brain barriers induced by changing between tasks can lose someone's productive time as much as 40%."
How to Schedule Facebook Posts?
First things first: In order to schedule Facebook posts, you must have a Facebook Page. After you've set up your Page, use this step-by-step tutorial to discover how to content scheduler upcoming posts.
Access Facebook at https://www.facebook.com: If you aren't already logged in, do so right away by following the on-screen instructions. For your personal Facebook account, you cannot schedule Facebook posts. Only posts for Pages you manage can be scheduled. Pages are typically utilized by companies, nonprofits, blogs, and famous people.

Choose Pages: It is the option on the left menu that has an orange flag.If you haven't already created a Page, you can do so by selecting Pages and then choosing + Create New Page in the left menu.

Toggle to your Page: The "Pages" header on the left side lists the pages you are in charge of.

Select Publishing Tools: It can be found in the left panel, at the bottom.

Then select Create a post: It is the blue button in the upper-left corner of the posts that have already been made.

Draft your post: In the field labeled "Write anything," type the post exactly how you want it to appear. Emojis, tags, images, and other content are all available for addition.

Click Down Arrow: It is next to "Publish". It is located in the window's bottom right corner. The menu will expand.

Select Schedule Post: The Schedule Post window is then displayed.

Decide Live Time : If applicable, clicking today's date will open a social media calendar where you can select a future date, and clicking the current time will let you select a different time. Your own time zone is used for the date and time you choose. The earliest post you can plan to publish in 20 minutes. Posts may be planned up to 75 days in advance. Make sure to choose AM or PM as appropriate.

Save Your Planned Post, Click Save: It is the blue button in the pop-up window's lower right corner. Your post is now set to go live at the chosen time and date on your Page's news feed. If you decide against scheduling the post, you can go back to the Publishing Tools page, choose Scheduled Posts in the left panel, and select another option by clicking the down arrow next to the post (Publish, Reschedule, or Cancel). Return to Publishing Tools, select Scheduled Posts, and then click Edit on the post to make changes to its content.
Boost your Social Media Marketing Efforts Sign Up 14 Day Trial
What Are the Best Times to Schedule Facebook Posts?
The most impactful times to schedule Facebook posts are Monday through Friday at 3 am and Tuesday at 10 am and noon, as per a study done by Sprout. Why 3 am? Because there is probably less competition then, posting around these times might provide the initial engagement spark you need to engage more users throughout the day. Due to the fact that Facebook is used by people in different time zones throughout the world, there may be more engagement from those areas, which could assist to increase the activity of your posts.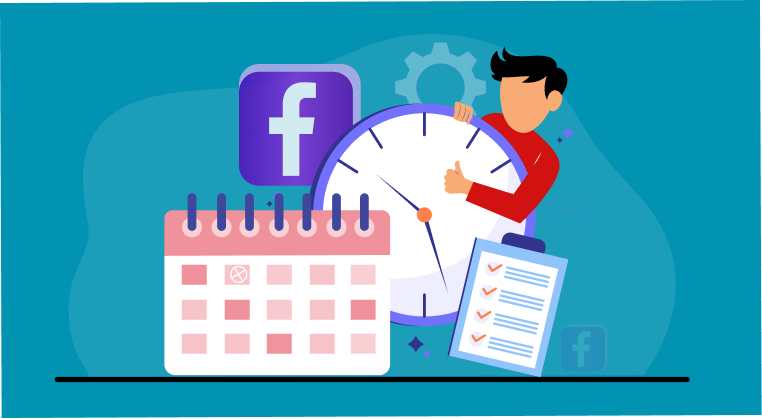 Early mornings and the time period between 9 am and 12 pm on weekdays seem to be peak Facebook user activity, so this could also be a good place to test your post-tests. The optimum days to post are Tuesdays through Fridays, whereas you should completely avoid posting on Saturdays. Weekend engagement rates are generally low since there may be fewer users online or perhaps Facebook emphasizes material from friends and family more during those days.
The Best Tool to Manage Your Facebook Business Account
HipSocial, a social media management solution by 500apps, allows users to schedule material in advance, manage various social media accounts from a single platform, and monitor social media metrics.
This social media management application allows users to post to Facebook, Twitter, LinkedIn, and Instagram from a single platform. Particularly for individuals who are active on multiple social media platforms, this can save a tonne of time.
The content planner on HipSocial is yet another fantastic tool. Users can use this to schedule their social media posts in advance, eliminating the need for daily remembrance.
Finally, users may monitor their social media activity and determine which postings are having the best results using HipSocial's social media analytics tool. Users can utilize this to optimize their social media strategy and guarantee that their efforts are yielding the best results.
Conclusion
The use of social media scheduling has several advantages. It can help you stay organized, save time, and ensure that the content you share is timely and pertinent. Additionally, social media scheduling can improve your overall social media strategy, as well as assist you to expand your reach and engagement.
HipSocial can help you if you're looking for the best social media planner. You can automate tasks so don't worry about falling behind on your social media material. Visit our tool right now!
What Makes the Best Social Media Management Tool?
#1
Manage all social media channels in one place
#2
Add unlimited projects for multiple clients
#3
Create and publish posts on all social media channels
#4
Configure multiple streams like Twitter pages, Instagram posts
#5
Plan and schedule bulk social media posts
#6
Access reports for a detailed overview of day-to-day accomplishments
#7
Fetch content, images from various sources using web scraper
#8
Integrate with various third-party applications like CRM, social media apps and more
#9
Unbelievable pricing - the lowest you will ever find
#10
Everything your business needs - 50 apps, 24/5 support and 99.95% uptime
Join the SaaS Revolution
All-in-One Suite of 50 apps

Unbelievable pricing - ₹999/user

24/5 Chat, Phone and Email Support