Tips to Optimize and Create Social Media Calendar
Get the best tips to optimize and create social media calendar. This comprehensive guide will help you to manage your social media accounts like a professional.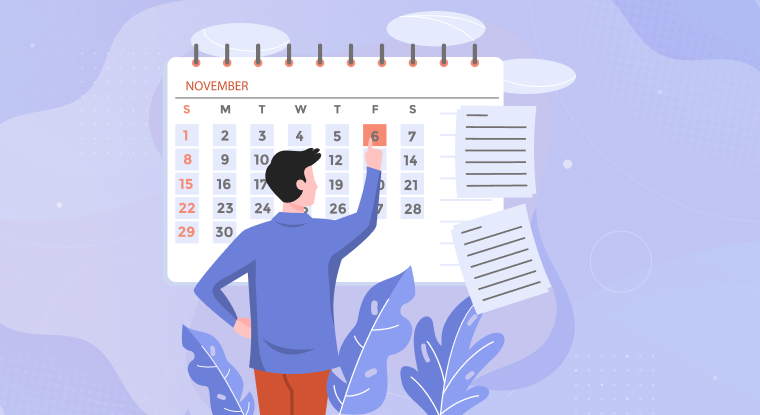 What is a Social Media Calendar?
As of October 2021, around 4.55 billion people are active on social media, equating to 58.7% of the global population. Social media marketing is about regularly connecting with your target audience through carefully planned content.
Success on social media requires a consistent strategy and the right tools to execute them. However, the possibilities for you to reach out to your clients through social media channels are so vast that it becomes easy to lose track. It makes the marketers stay on their toes, always adapting to the latest technology and tools. This is why having a social media calendar is inevitable.
At the most basic level, it is a calendar of all your social media posts. A social media calendar is a strategic planning document or an app that allows individuals to visualize their social media strategy showing what they plan to post and when. A report shows that companies that publish more than sixteen posts in a month gain 3.5 times more traffic than those that publish less than four posts.
Specifically, a content calendar provides the marketing team with an easy going workflow, maintains a consistent posting schedule, and effectively organizes the content creation and curation process. In addition, social media calendar analyzes results and follows deadlines across multiple social networks.
Why is a Social Media Calendar Required?
A social media calendar is arguably a 'must-have' tool in any business or agency. If you are not already into maintaining a social media calendar for your content requirements, here are some facts that will pique your interest. The core purpose of this application is to organize your ideas and tasks in one place.
By creating a social media content calendar, you are also creating a central hub of posts, where you can plan your upcoming posts, track them with content scheduler, and coordinate your plan with others. A pre-planned social media calendar will get you countless advantages, as listed below.
Makes it easier to build diverse, high quality and strategic content
Maintains a consistent posting schedule
Increases cross-functional visibility
Avoids the risk of making errors
Saves your time by staying organized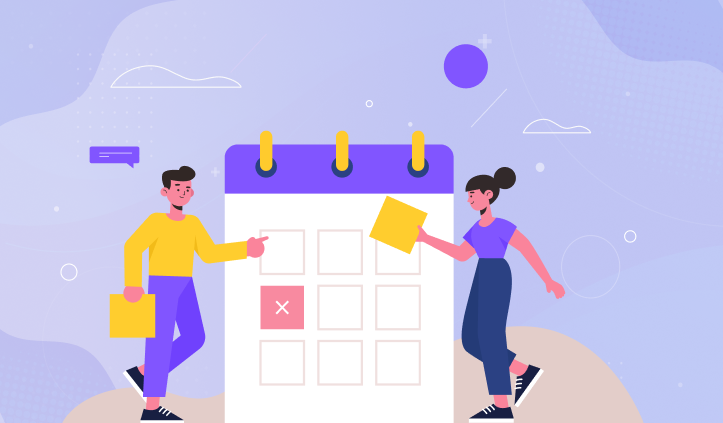 How to Create and Optimize a Social Media Calendar?
Consistency is the key to social media success. A social media calendar helps you stay organized for the future. However, creating one might seem like a daunting task, but it doesn't have to be! With foresight and strategic planning, you can easily create a content calendar for your brand to ensure you always have something to post, either weeks or months, or even a year in advance.
Read on to learn how to develop and optimize a stellar social media calendar plan.
1. Identify the Best Social Media Channels
Before you begin to fill out your social media calendar, finding the right platform where you can get the relevant audience is the first and most important step you must tread. There are multiple networks; hence you need to narrow down your options to create platform-specific strategies. Evaluating your social media platform to determine which ones are worth your time will help you reach the target audience based on their demographic status.
2. Audit Your Social Media Strategy
Conduct a complete evaluation of the existing strategy of your current social media network to learn how you can improve your content strategy and surpass past results. As you audit your current social profiles, it's essential to pay attention to certain key points.
Your most successful posts and campaigns
Types of posts and formats that get the most attention
Your audience active time
Key metrics to measure the future success
Competitor's content strategy
3. Plan Your Content
After choosing the relevant platform and target audience, you can now start planning the content for each one. For instance, you can segregate your content into blogs, tutorials, and video posts or categorize them based on events, important dates, and the nature of the content. The primary benefit of curating the content into different categories is that it will help you track down what content inspires your audience most.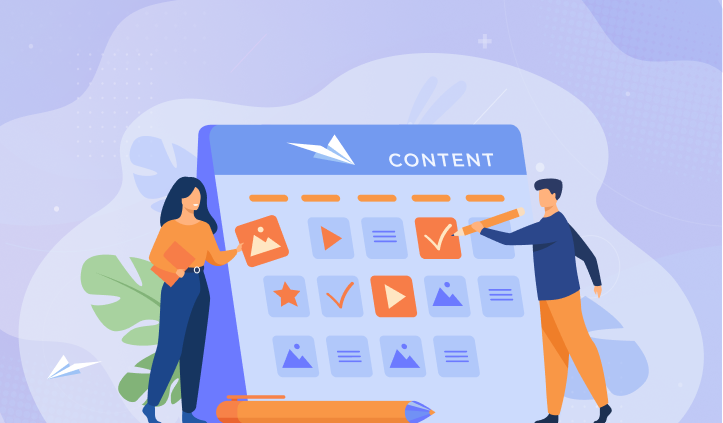 4. Create a Library of Digital Resources and Assets
Your digital library is a centralized source for all your branding elements, images, contents, and social media handles. Known as a content repository, your library should have the following features.
Adequate space for large files
Accessible from any device and seamless integration with other social media platforms
Easily sharable with team members, but with privacy options.
Links to individual files, to get it at the instance
Boost your Social Media Marketing Efforts Sign Up 14 Day Trial
5. Establish Your Workflow
Once you are done with the resources and all your content is defined, you need to figure out the workflow for your calendar. Thus, to effectively implement your brainstormed strategy, you need to design a work plan that will give a definite structure to a workday.
This best course of action aims to make the process smoother and easier to follow. This will help you schedule your content ahead of time so that you don't have to find new content every hour and be on the clock throughout the day. In order to reduce errors and improve productivity and collaboration you can get an app which supports approval workflow feature.
6. Set the Scheduled Time
Now that your social media calendar is all prepped and set to go, you have to look for a good time when engagement is highest. It is imperative to gather a little data to determine when your audience will be mostly available to react and get involved in your content. However, if you still find it harder to publish your posts manually, you can use a scheduler tool to simplify the process.
Summing It Up
Social media marketing is highly dynamic, with constantly evolving algorithms and trends that come and go. However, if there is one thing that you can consistently rely on, it is a solid social media calendar. The best social media calendar will aid you in many ways by saving time, streamlining the process, and scaling your brand, all by allowing you to work smarter, not harder.
Are you confused or struggling with what to post next on your social media? From finding the perfect scheduling tools to creating your digital asset library, we, at HipSocial, will help you conquer your social media goals through our social media management tool.
What Makes the Best Social Media Management Tool?
#1
Manage all social media channels in one place
#2
Add unlimited projects for multiple clients
#3
Create and publish posts on all social media channels
#4
Configure multiple streams like Twitter pages, Instagram posts
#5
Plan and schedule bulk social media posts
#6
Access reports for a detailed overview of day-to-day accomplishments
#7
Fetch content, images from various sources using web scraper
#8
Integrate with various third-party applications like CRM, social media apps and more
#9
Unbelievable pricing - the lowest you will ever find
#10
Everything your business needs - 50 apps, 24/5 support and 99.95% uptime
Join the SaaS Revolution
All-in-One Suite of 50 apps

Unbelievable pricing - ₹999/user

24/5 Chat, Phone and Email Support