Benefits of Using Tools to Schedule Instagram Posts: A Guide
Schedule Instagram posts. Plan your posts. Utilize the Instagram scheduling tool to curate stunning posts and schedule them.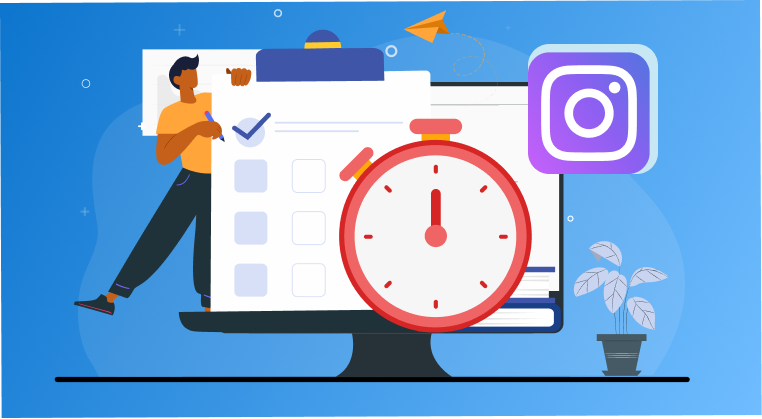 We all understand the value of social media for businesses, but let's be honest: it may be challenging to produce high-quality content every day, come up with a clever caption, choose the right moment to publish, and so on.
Scheduling your social media accounts relieves you of this constant fight, gives you time to create fantastic content for your social media channels, and stops you from "panic posting" and publishing something pointless just for the sake of it.
Scheduling Posts on Instagram
The following five steps should be followed to schedule Instagram posts:
1. Create a Business Profile
To use scheduled posts, you must first establish an Instagram business profile. You can switch your Instagram account to a business profile in your settings if you already have one.
If you wish to benefit from more features like scheduling, you should establish a business profile. You may access services like Instagram Insights by creating an Instagram business profile. This tool displays your followers' locations, ages, and genders as well as when they are online (cities).You can also include a contact button on your Instagram profile if you have a business profile. Additionally, you can link to your Instagram stories and promote posts.
You'll gain several more advantages in addition to scheduling Instagram posts with the aid of an Instagram business profile.
2. Include Instagram in Your Social Media Platform
You need to utilize a social media management tool like Buffer or Hootsuite if you want to schedule Instagram posts.
You must make a financial commitment if you don't already have a social media management platform. You must adhere to the platform's guidelines for adding your Instagram account after making your choice.
3. Organise Your Field
Since you can schedule Instagram posts in advance, you must organize your feed. You don't want your feed to appear monotonous or repeated, which can happen if you schedule Instagram posts all at once and fail to recognize how similar the items are.
You may add diversity to your Instagram profile by organizing your feed. You can use it to see your entire content strategy and determine whether any changes are necessary. Because you won't keep posting the same thing over and over on Instagram, your account will remain interesting.
4. Create Your Post
You can begin writing your posts once you've planned out your feed. To improve the consistency of your brand across your profile, you should ensure that your photographs reflect the aesthetic of your business. You can upload a variety of things to your Instagram account. Your items are one excellent choice. Your Instagram followers will love the chance to experience your products firsthand.
You can post images of your products being used by customers or the actual product. To avoid having only boring product photographs in your feed, you should mix up the types of posts you make.
Instagram is a terrific platform for sharing images of your team or the projects you're working on. It helps your audience better understand your company by providing them with information about it.
5. Schedule Instagram Posts
It's time to schedule Instagram posts once you've finished writing them. Asking yourself when your audience is most likely to notice your Instagram posts will help you choose the optimal time to reach them.Your Instagram statistics can be used to assist you to determine the times that your audience is most likely to be online.
Make sure your schedule isn't too tight when you schedule Instagram posts. Your profile may come out as robotic and dull if you consistently upload information at the same time.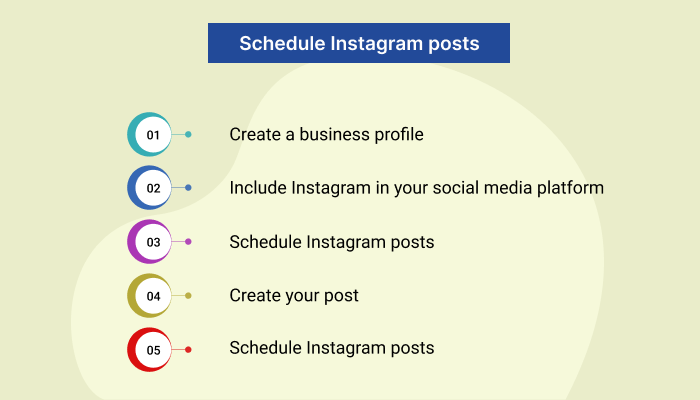 Benefits of Using a Scheduling Tool for Instagram
The primary advantages to schedule Instagram posts are listed below:
Creates a More Thorough Content Plan
Considerable food for thought: Instagram statistics show that various forms of content—such as carousels, pictures, Stories, and videos—get different levels of interaction.Similar to this, brands must vary their content tactics rather than consistently posting the same kind of information.
Instagram post scheduler allows you to truly review your social media calendar. Furthermore, since you don't need to post immediately on Instagram, you have more time to gather the numerous materials needed to create interesting, original content. Would you like to spend a few days editing a video or working on a storytelling post? No issue.
Organize Your Time
The practice to schedule Instagram posts can at the very least help you make significant time savings. There will be more chances to engage with followers and respond to comments as a result.
Even the best Instagram scheduler is unable to handle the tedious task of building client relationships. You may spend more time engaging with your audience when you maintain a posting schedule and are consistent.
Boost your Social Media Marketing Efforts Sign Up 14 Day Trial
Results in Better Time Management and Posts of Higher Quality
Consider the work that goes into each post or campaign.Captioning pictures. Adjusting pictures. Tagging. And even that hardly touches the surface.
Burnout is a sure sign of last-minute Instagram posting. You can better organize your time and create posts that are more meaningful if you schedule Instagram posts in advance.
Develops Integrated Marketing Efforts
Silos should not exist in your marketing campaigns. All of your channels, including paid and organic social media, email, and others, should use the same creatives, landing pages, and promotions. Better client experiences result from this.
You may make sure that your posts go live on social media at the appropriate moment by scheduling them. You can connect all of your social media accounts (such as Instagram, Facebook, and Pinterest) if you use a social media management solution like Sprout Social, eliminating the need for manual or real-time posting.
Encourages Collaboration and Brainstorming
Once more, social media scheduling motivates brands to start creating content well in advance. The greatest captions and creative materials can now be discussed by marketers and colleagues.
Collaboration and Instagram scheduling are useful for both social teams and marketers seeking input from customers or influencers. It's simple to have several sets of eyes on your material before it goes live when combined with a social media approval procedure.
HipSocial: Best Scheduling Tool for Instagram
HipSocial, an intuitive social media management solution from 500apps, enables you to manage all of your social network accounts from one location. Through HipSocial, you can instantly connect your accounts and interact with your audience by posting updates and blog posts whenever you like.
Using a technology called web scraping, the program searches websites for words, phrases, content, and images that it thinks will perform well on your social networking networks.
HipSocial sends you thorough reports on the effectiveness of your Instagram posts and offers additional features like bulk scheduling for Instagram posts, calendar tracking, social media listening, and workflow approval.
For $14.99 a month, you may access all the capabilities listed above as well as 39 additional 500apps application components.
Summing It Up
The Instagram algorithm states that if you share a positive message at the right time, more people will notice it, increasing its chances of going viral and showing up on other people's explore pages. You might as a result get more Instagram followers in less time. So, to get the most out of this Instagram feature, we strongly advise using an Instagram post planner.
HipSocial is the top social media management tool available, and it costs reasonably while providing a wide range of functions. You will also receive access to other 500apps tools, such as a task management tool and chat support software, which is both necessary for a business owner who hopes to grow their organization into one of the Fortune 500 firms in the future.
What Makes the Best Social Media Management Tool?
#1
Manage all social media channels in one place
#2
Add unlimited projects for multiple clients
#3
Create and publish posts on all social media channels
#4
Configure multiple streams like Twitter pages, Instagram posts
#5
Plan and schedule bulk social media posts
#6
Access reports for a detailed overview of day-to-day accomplishments
#7
Fetch content, images from various sources using web scraper
#8
Integrate with various third-party applications like CRM, social media apps and more
#9
Unbelievable pricing - the lowest you will ever find
#10
Everything your business needs - 50 apps, 24/5 support and 99.95% uptime
Join the SaaS Revolution
All-in-One Suite of 50 apps

Unbelievable pricing - ₹999/user

24/5 Chat, Phone and Email Support