5 Best Social Media Planner Tools to Enhance Your Business
If you want to increase your business, you need to concentrate on Social Media Planner Tools. Here are the 5 best social media planner tools.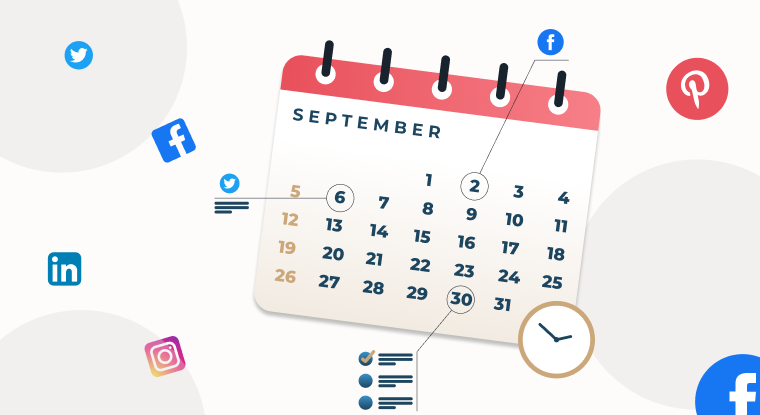 What is a Social Media Planner?
Social media has become an integral component of the business world in this digital era and plays a key role in the digital marketing sector. Using social media as a marketing strategy helps the company grow because it reaches millions of individuals instantly and in the most effective way.
A company's success largely depends on its capability to conduct social media marketing. Technology is evolving at a rapid pace, and new platforms are emerging daily. Multiple social media accounts are tough to operate, schedule, track, or manage at the same time for a marketer. In this case, a social media planner is a one-stop solution that helps your business level up. It makes the work easier and faster, enhancing the business' visibility.
A social media planner assists you in developing social media strategies, determining the target audience, which social networks to join, and the type of content to be shared to drive value to the business. From planning or scheduling to analyzing and tracking, it optimizes the brand's performance through various channels.
How Does Social Media Planner Help in Brand Awareness?
Brand recognition is the initial step in the marketing process and a necessary basis for acquiring clients. Companies invest millions of dollars to imprint their brands in the thoughts of their customers. Some have even become verbs in our everyday vocabulary, such as we don't order food, we do Zomato!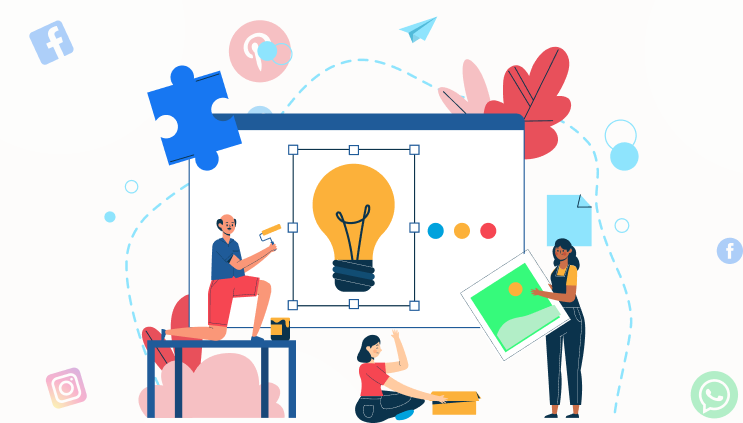 According to Statista reports, the number of social media users is expected to reach 4.41 billion by 2025. To market a brand on social media and reach the right audience at the right time, one must first understand the target demographic, generate compelling content, stay current with trends, and so on. A social media planner can assist in strategizing social content, planning the overall strategy across multiple networks, identifying target audiences, developing content, and establishing both short & long-term goals. It also aids in keeping up with current trends and dealing with last-minute decisions.
A social media planner is a useful tool for increasing brand awareness by ensuring that everything is on track and removing bottlenecks that can emerge during branding, making it easier to plan, track, and analyze the overall branding process.
Best Social Media Planners Available in Market
Whether you work for an agency or prefer to work independently, the social media planner tool helps you improve your brand's visibility in various ways. Let's look at the top 5 social media planners to help you achieve your business objectives.
1. HipSocial
We've made it to the top! HipSocial is the social media management tool under the brand name 500apps. The tool is integrated with multiple social media networks, including Facebook, Twitter, Instagram, and LinkedIn, among others.
With Hipsocial, you can easily schedule or optimize content based on your audience's interests and engage with potential customers. HipSocial's Web Scrapper also ensures that you acquire relevant information from your target sites and enhance the content to fit your social media objectives.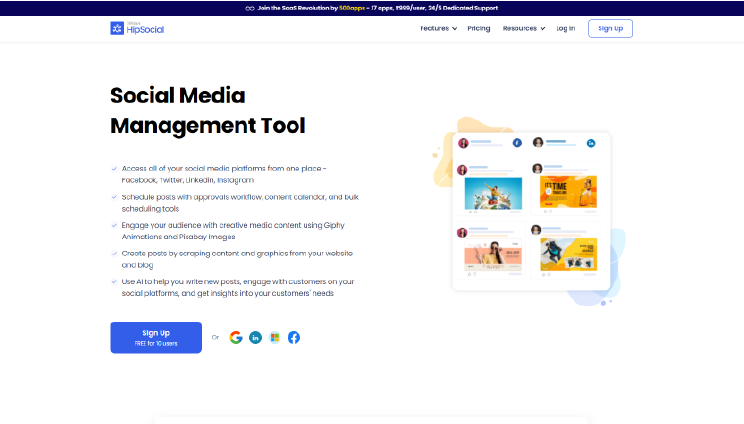 Beyond scheduling, strategizing, or planning, providing prompt customer response is of utmost importance. HipSocial Social listening tool examines customer feedback, direct mentions, and major social media conversations about your brand. The tool allows you to communicate with customers directly and respond quickly from a single location.
HipSocial's analytics tool shows detailed insights to better understand client behavior, interests, and other relevant data to improve the whole social media presence.
Pricing - Free account with access to 37+ apps. Its cloud plan starts at $14.99/- per month
Boost your Social Media Marketing Efforts Sign Up 14 Day Trial
2. MAVSOCIAL
MAVSOCIAL, like HipSocial, is linked to social media sites and offers features including scheduling, automation, consumer engagement, planning, publishing, and monitoring. Other notable features include the ability to plan Facebook stories and manage social media marketing campaigns across several platforms.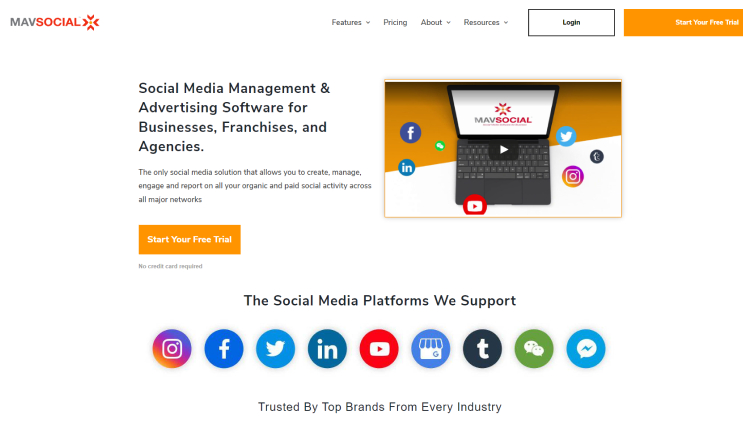 MAVSOCIAL's medial planner enables users to reply to consumer comments, reviews, and mentions from several platforms in one spot. The user also controls, optimizes, and identifies the data with its in-built analytics.
Pricing - The Advanced plan costs $19 per month.
3. Zoho
This is the social media planner for team collaboration. Teams can use the platform to talk, provide feedback, and exchange team tasks and reports all at once. It allows you to manage your social media updates and insights. In addition, the app is quite simple to use.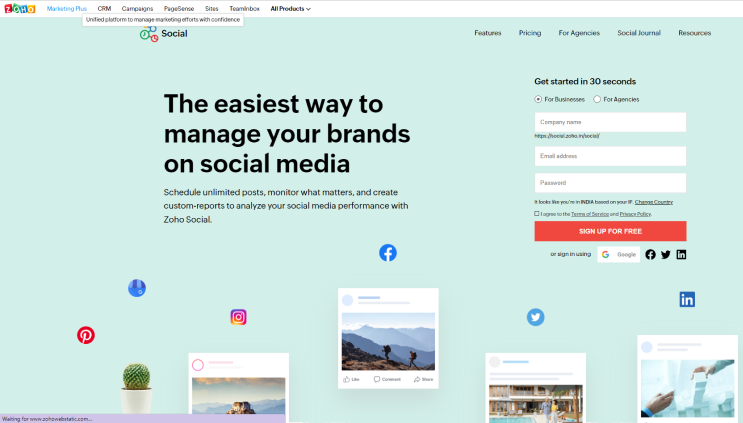 It integrates with all social media accounts and provides features such as scheduling and rescheduling posts, monitoring reviews and trends, collaborating with the teams, and analyzing the brand's performance. The tool's fast interface with Zoho CRM, ability to track customer interactions, own optimized timing function, and content curation via zShare browser integration offer it a competitive edge.
Pricing - The "basic" plan costs $10 per month: The "Premium" plan, which includes all features (including CRM integration), costs $40 per month.
4. UberCircle
This social media planner tool saves your time and effort when it comes to planning, analyzing, scheduling, or reporting on social media platforms. The application is simple to use, and it only takes 10-20 minutes every day to complete all of the work. UberCircle simplifies your entire process and makes it easier to provide the content successfully.
Another benefit of UberCircle is that it efficiently organizes video and photographs in one location on each platform, making sync quicker and faster on phones, desktops, Google Drive, and other devices. Both small and large-scale enterprises can use UberCircle.
Pricing - Starter - $11.99/- month (up to 15 social accounts) Standard - $19.99/- month (up to 20 social accounts) Premium - $39.99/- month (up to 45 social accounts)
5. Hootsuite
Hootsuite is a popular social media scheduling application. It caters to the needs of every individual, whether they are freelancers, small businesses, or major corporations. Its versatile scheduling options allow you to simultaneously post many videos and manage multiple accounts for each channel.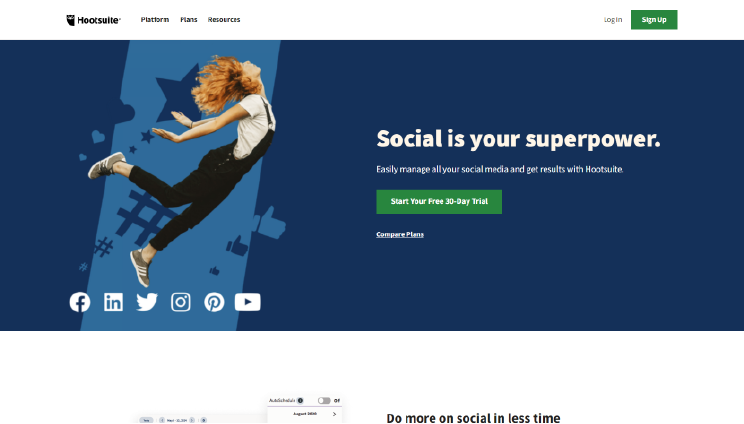 HubSpot CRM provides a comprehensive view of your customers' social activities, how many genuine leads you're producing from various platforms, and the return on investment for each campaign.
Pricing - 30 days free trial. The professional plan starts at $24.69/- month (1 user)
Summing It Up
Today, social media is an essential component of many businesses. People extensively rely on and invest in social media platforms to boost their brand visibility. To achieve the desired results, one must invest in a social media planner. There are numerous social media planner tools available; perhaps, this list will assist you in selecting the best one. If not, take a look at HipSocial and enhance your business visibility with our social media management.
What Makes the Best Social Media Management Tool?
#1
Manage all social media channels in one place
#2
Add unlimited projects for multiple clients
#3
Create and publish posts on all social media channels
#4
Configure multiple streams like Twitter pages, Instagram posts
#5
Plan and schedule bulk social media posts
#6
Access reports for a detailed overview of day-to-day accomplishments
#7
Fetch content, images from various sources using web scraper
#8
Integrate with various third-party applications like CRM, social media apps and more
#9
Unbelievable pricing - the lowest you will ever find
#10
Everything your business needs - 50 apps, 24/5 support and 99.95% uptime
Join the SaaS Revolution
All-in-One Suite of 50 apps

Unbelievable pricing - ₹999/user

24/5 Chat, Phone and Email Support