Social Media Listening Importance: An Efficient Guide
An efficient guide to social media listening importance. Learn how to listen to your customers and get ahead of your competitors.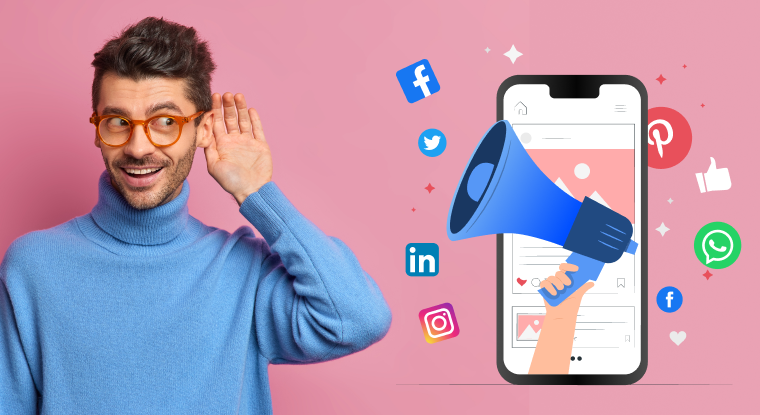 It is essential to have a good social media reputation for your business to become a household name and achieve high brand recognition. However, the last thing you want is to build a reputation for all the wrong reasons: poor service, scandals, and other difficulties that may result in negative social media mentions.
Due to what may quickly turn into a difficult path, it is crucial to monitor your brand's social media platforms and search for any red lights. This is when social media listening becomes important.
What is Social Media Listening?
Social media listening is the process of observing discussions and trends about your business and your industry and then using that information to make smarter marketing decisions.
Social listening allows you to understand why, where, and how these discussions occur and what people think, not just when they tag or mention your company. This allows you to create future campaigns, better content strategy and message, outperform your competitors, establish a successful influencer program, and even generate more significant brand alliances.
Why is Social Media Listening Important for Your Business?
You develop your company plan while wearing blinders if you aren't employing social media listening. Real people actively discuss your brand and industry online. It is in your best interests to find out what they have to say. You can then apply this knowledge to develop unique marketing tactics that can help you get your product or service in front of the most interested potential clients. This allows you to optimize your new client acquisition and retention strategy investments.
Simply said, if you care about your consumers, you should care about the insights that social media listening may provide. Here are a few ways social media listening may help your business:
1. Recognize and Interact with Your Target Audience
Social media listening allows you to better understand what your target audience expects from your company by monitoring brand mention across multiple networks. For example, a current client may tweet about how much they enjoy your product, or you can come across a conversation in which individuals seek what benefits your product or service can offer.
Boost your Social Media Marketing Efforts Sign Up 14 Day Trial
2. Obtain Intelligence about the Industry and Competitors
Understanding what others say about you is only one aspect of social media listening. You also want to discover what they have to say about your competition and the industry as a whole. This provides essential information about where you fit in the market.
Social listening shows you what your rivals are up to in real-time. Knowing such information as they emerge enables you to plan and respond in a timely manner.
3. Monitor Product Knowledge
Monitoring industry discussions reveal a wealth of information about what works and what does not for current and future consumers. This data is a treasure trove for your customer support, product development, and marketing teams.
You can also discover customer complaints regarding your present products and those of your rivals, allowing you to make changes and alleviate these concerns.
4. Avoid Disasters before They Occur
You can track sentiment in real-time with social media listening tool, so you can know right away if there's a major shift in how often people are talking about you or the tone behind what they say.
In other words, social media listening functions as an early warning system, alerting you of changes in how your brand is regarded online, including both favourable and negative views.
5. Market Your Brand
People often appreciate it when you offer to assist them in resolving their difficulties. Strangers on the Internet, on the other hand, despise it when businesses interrupt their social chats with a hard pitch.
Social listening lets you discover inquiries and discussions about your sector on social media sites. These are all viable avenues for reaching out and introducing your business or sharing your experience.
However, they should not be viewed as opportunities to rush in and try to sell your products and services immediately. Instead, you should think of the discussion you join through social media listening as a chance to build relationships with potential clients in your sector that you can nurture into social selling partnerships.
When to Use Social Media Listening?
Currently, there are over 4.2 billion active social media users worldwide. If you do not include social media listening in your digital marketing plan, you're passing on a quick, cheap, and effective opportunity to reach almost half of the world's population.
Using social media listening, you can easily drive traffic to your website, convert visitors into buyers, create leads and customers, and increase your brand recognition. Improved brand recognition translates to better success in all of your other initiatives as well.
HipSocial: Best Social Media Listening Tool for Your Brand
HipSocial is an easy-to-use social media management tool that helps you manage all your social media accounts from one place.
Through the social media listening feature, you can monitor brand mentions and crucial conversations happening across the networks and interact with the relevant topics which will boost your engagement to new heights. In addition, you can distribute high-quality, error-free material across different social networks with the application's approval system.
Summing It Up
Social media listening encompasses a large range of activities, including tracking brand mentions, consumer feedback, industry trends, and more. This information is essential for determining the direction your products can take to generate revenue.
Applications like HipSocial assist you in developing and maintaining interactions with your social media following. They also allow you to examine your messages, comments, and brand mentions across different networks in a single dashboard and reply to them all.
You may also import and share lists of influencers and leads with others in your organization. Last but not least, you can utilize HipSocial's social media analytics feature to optimize your social media strategy and ensure higher brand awareness among your customer base.
What Makes the Best Social Media Management Tool?
#1
Manage all social media channels in one place
#2
Add unlimited projects for multiple clients
#3
Create and publish posts on all social media channels
#4
Configure multiple streams like Twitter pages, Instagram posts
#5
Plan and schedule bulk social media posts
#6
Access reports for a detailed overview of day-to-day accomplishments
#7
Fetch content, images from various sources using web scraper
#8
Integrate with various third-party applications like CRM, social media apps and more
#9
Unbelievable pricing - the lowest you will ever find
#10
Everything your business needs - 50 apps, 24/5 support and 99.95% uptime
Join the SaaS Revolution
All-in-One Suite of 50 apps

Unbelievable pricing - ₹999/user

24/5 Chat, Phone and Email Support