8 Best Social Media Posts Scheduling Apps in 2022
Read our guide to the 8 best social media posts scheduling apps in 2022. Find out which ones best suits your business requirements.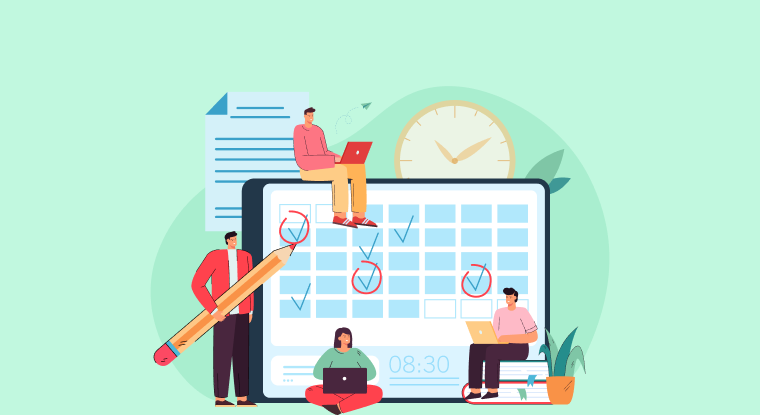 In this increasingly digital age, it goes without saying how big a role social media plays in selling, in both the B2B and B2C industries. Especially in B2B, the usage of social media and other digital channels to sell has risen rapidly since the lockdowns of 2022.
Nearly half of the entire population of the world is already on social media these days. And more users are expected to get on board over the coming months. The ones that already use various platforms have apparently joined more channels and have become more active since 2022.
The development of new and exciting features in social media channels over the past few months has definitely played an important part in increasing its usage. Features like Instagram Reels and new emojis on Facebook have led users to love these channels even more. Suffice it to say, social media has become a gold mine of clients for businesses. Statistics suggest that as much as 84% of senior executives and decision-makers use social media to support or help in their purchase decisions. Furthermore, 94% of B2B buyers do conduct some degree of research online before making a purchase decision.
Research by IDC has also found that 75% of all B2B buyers are in fact significantly influenced by social media. Considering these wholesome opportunities for businesses to take advantage of, it is only sensible for businesses to use social media to capture leads and sell at a place where a large share of buyers spend the most time and rely on for product reviews.
The Rise of Social Selling
Social selling is a concept that has soon grown to become an inevitable part of B2B selling. In simple terms, it refers to the usage of social media platforms to sell products and services. It involves reaching out to customers through multiple networks, creating relevant content to drive traction towards the website and inducing customers to make purchases.
Just like a regular buying cycle in B2B, it involves capturing leads, pursuing them, nurturing them and driving them through the sales funnel, until they are ready to make a purchase. The difference though is that through social media, there is a need for companies to be more consistent, transparent and open about their ways.
The concept as such emerged as a result of people or buyers, whether it is in B2B or B2C, spending more time on social media and using multiple channels like Instagram and Facebook to make purchase decisions. While the old sales model involved cold calling, conducting sales demos and analysing leads to identify qualified ones to start pitching products to, the new and advanced B2B sales model involves the usage of social media. Not to make a sale directly or to perform what would encompass a conventional "sale", but to effectively reach out to new prospects, introduce your brand and educate them on how your company can help them grow their business and nurture them further with insightful content.
Quite evidently, the old days where cold pitches to buy products worked, are long gone. Channels that provide direct ways to connect with brands have indeed created a much more knowledgeable and spirited generation that wants to be more conscious of purchase decisions. Hence, the most important thing in social selling is to establish a connection with prospects before actually pitching a product. And social media provides the perfect platform to facilitate that.
According to a study conducted by Jamie Shanks from Sales for Life, apparently for every $1 invested in social selling an ROI of $5 is generated. Further findings have also shown that sales reps sell more when they use social networks. Other benefits of social selling include increased generation of leads, enhanced conversion rates and shorter B2B sales cycles, all of which enable companies to improve their bottom line.
However, you need a good social media strategy, along with an efficient and feature-rich social media management tool, or Social media analytics tool to carry out successful social selling and to stay on top of your social media relationships with customers. Online Marketing Guru Kim Garst further explains how using the right tools to augment content marketing and social media marketing strategies can make all the difference in the world in this post.
It's all in the tools. This is true in both social media AND content marketing. Using the right tools as part of your content marketing strategy can make all the difference in the world! Free and paid tools that help find, create, and promote your content. https://t.co/UnThgvclTF pic.twitter.com/xAYsSP6Oki

— Kim Garst - Online Marketing Guru (@kimgarst) January 5, 2021
What is a Social Media Management Tool?
A social media management tool is a digital solution that allows businesses to effectively manage content creation, content posting, customer engagement and queries across multiple networks at once. It involves features to create and post content, listen in on community conversations, like, comment share and engage with content and also communicate with followers seamlessly. Above all, it also typically comes with analytical features that allow marketers to measure the performance of the entire social media marketing team, and make improvements as needed.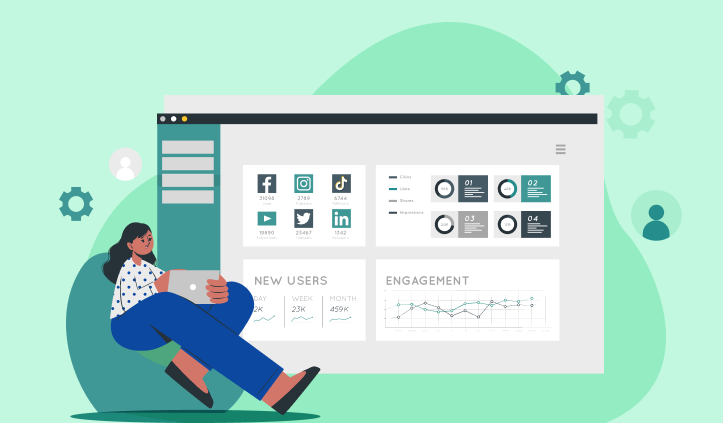 This way, social media post apps offer all the necessary tools for the enhanced implementation of social media marketing campaigns. From post creation to analysing the results of each post, the social media schedule app that you choose for your company will essentially provide you with a single command centre from which to control your entire social media presence, along with a holistic overview of your social media activities and their impact on your ROI.
Hipsocial is the perfect example of an efficient social media management tool that comes with specifically designed features for social media posting, management of subscribers or followers and also analytics. It offers a dedicated social media posting app that comes with manual time zone selection and unlimited scheduling features for you to post as many times as you want, at the right times to generate the most engagement. It also offers unique and cutting-edge social media listening features for you to stay on top of community conversations, identify market gaps and industry trends etc. It also comes with a top-notch analytics tool that lets you monitor your team's performance in real-time to make effective changes.
Why Do You Need a Social Media Management Tool?
A lot of companies assume that B2B social selling is limited to LinkedIn. It sure makes sense, as LinkedIn is a more professional and business-oriented social media platform. Channels like Facebook and Instagram, being more casual and comprised of younger users are believed to be effective only for B2C. However, this notion couldn't be more wrong.
Boost your Social Media Marketing Efforts Sign Up 14 Day Trial
According to recent findings, social media users on average spend up to 2 hours on social media browsing through 8 platforms, including Facebook and Instagram. This necessitates the use of a common management tool to carry out activities across all active platforms. In fact, posting content as well as promptly taking care of customer service, spanning a good social media strategy all without a centralized platform would be a difficult or rather impossible feat to achieve.
A good social media posting app will help you immensely in this regard and in many other ways as mentioned earlier. It can primarily automate the process of posting regular content, taking away the pressure of having to spend time each day publishing relevant content with relevant hashtags and mentions of people.
"You can never go wrong by investing in communities and the human beings within them" – Pam Moore
What to Look for in a Good Social Media Management Tool
There are a number of top-class social media management tools in the market today offering a variety of features and capabilities. In order to narrow down your options, here are a few essential features that you need to be looking for.
Social Media Posting and Scheduling
Comprehensive Platform to Manage Multiple Networks
Social Listening and Monitoring Capabilities
Social Media Engagement Features
Actionable Analytics
Integrations
Customizability and Flexibility
Ease of Use
With that here are the top 8 best social media post schedule apps to look for.
Best Social Media Posting and Scheduling Apps
Here are the top 8 social media posting apps that are equipped with the essential features mentioned above
1. HipSocial
HipSocial is hands down the most efficient and feature-rich app in the market today. It comes with content scheduler feature that is one of the most relevant features to have today. It allows you to plan and schedule posts in bulk across different social networks and timezones. It also comes with smart engagement boosters, and essential integrations with all the leading social media platforms including YouTube, Twitter, LinkedIn and also WordPress to offer a comprehensive solution to manage and cross-post content across all your digital platforms.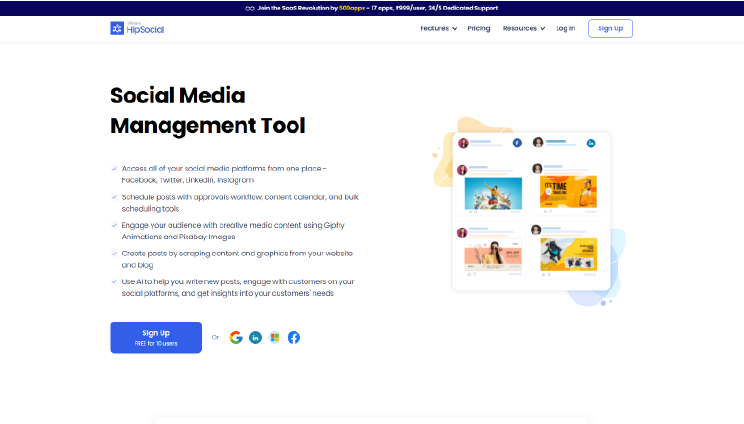 Above all, it comes with an insightful social analytics tool as well, where you can obtain network-wide reports for accurate performance measures, URL tracking options to track traffic and engagement analytics to gauge activity.
2. Sendible
Sendible is another leading social media posting scheduling app that is specifically designed for digital agencies. One of its main highlights is that it features 20 built-in integrations to social networking sites as well as blog platforms like WordPress and additional slack compatibility that lets you stay connected on team conversations.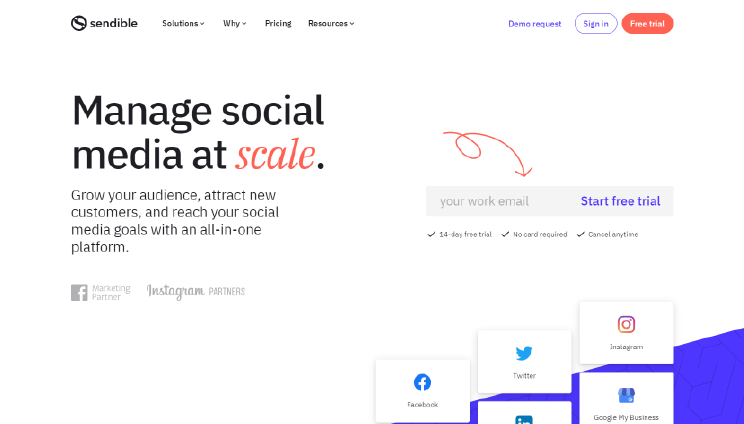 It also allows additional integration with the Canva design tool. In its Report Hub, it features a quick generation of a visually engaging and detailed report in as little as 15 minutes. In addition, it also comes with a unique "content suggestions" tool that offers smart content ideas.
3. Oktopost
Oktopost is a social media management that is specially designed for B2B businesses. It features an all-in-one solution with tools to post content, manage activities and measure your performance with respect to your overall marketing goals.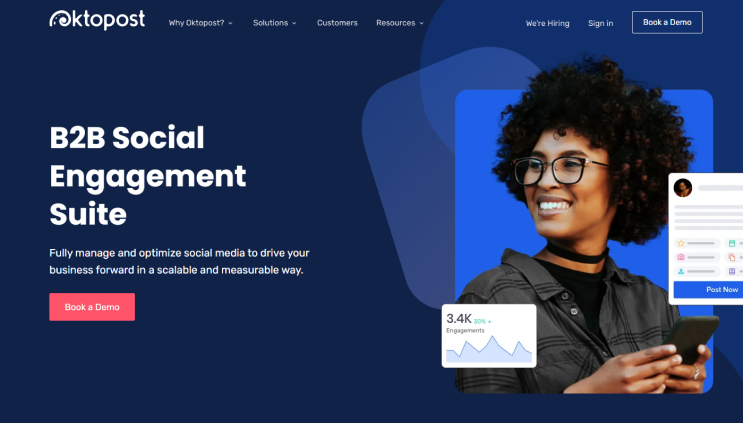 It offers a unique feature to identify optimal channels for your audience as well, which helps you garner the best outcome. In terms of integrations, it allows you to work in sync with widely used marketing automation solutions like SalesForce, Hubspot and Google Analytics. It also lets you measure your ROI from marketing activities for data-driven decision-making.
4. Buffer
Buffer is one of the most popular yet simple to use social network post-scheduling apps in the industry. It is widely preferred by marketers who simply want to cross-post content across multiple channels and manage content from a single platform. It is also known for its affordable price ranges.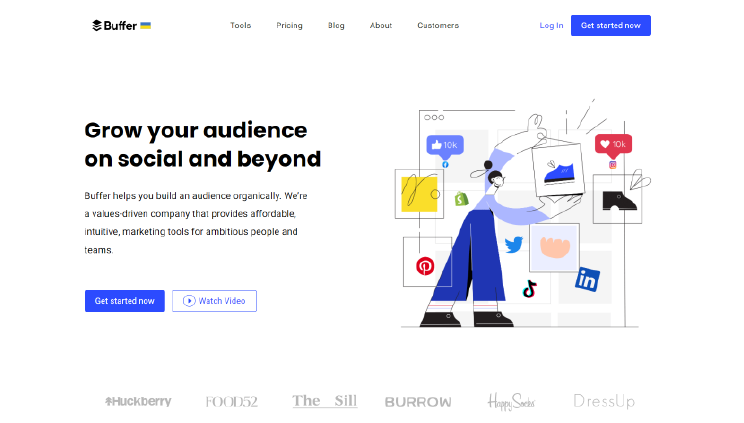 One of its unique features is an image editor by the name "Pablo" that allows you to optimize images for different social media channels. Its scheduling features are known to be quite user-friendly, convenient and useful for marketers as well.
5. Hootsuite
Hootsuite is a social media posting scheduling app that is widely popular among B2C companies. It is a standard solution that offers all the necessary features to post content across multiple channels.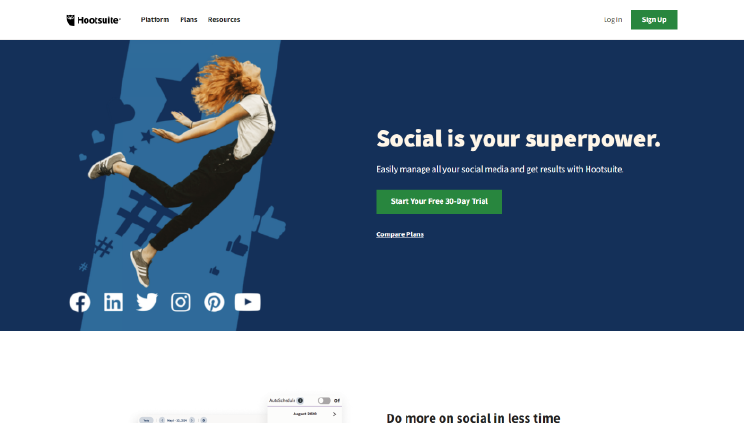 Its versatile social media planner allow you to post contents at a time across several accounts simultaneously, which means you can manage more than one account for every channel. It also provides ample flexibility and support to suit different business models.
6. SocialPilot
SocialPilot is another feature-rich social media posting scheduling app that is most known for its easy-to-use interface and reasonably priced plans, most preferred by small businesses.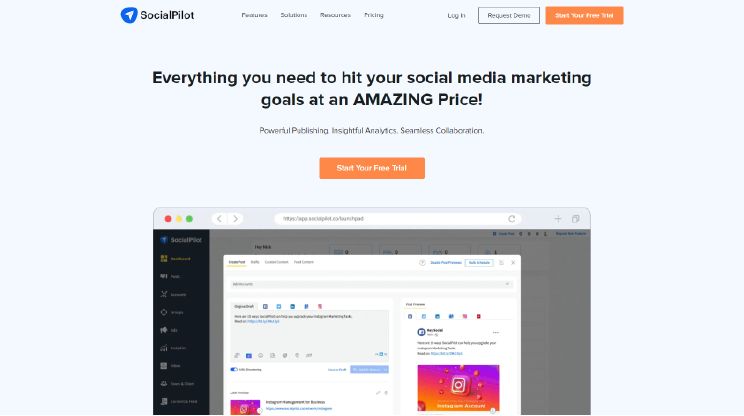 It offers all the basic necessary post-schedule and management features and some insightful analytics to measure performance. It also provides simple content suggestions and posts timing optimization features to help you publish at the right times.
7. SocialBee
SocialBee is an all-in-one social media management tool that allows you to create, schedule, and evaluate your content performance from the same dashboard. Also, you can easily create customized schedules for each social media platform to make sure your content gets posted at the right time, no matter what responsibilities you have that day.
SocialBee allows you to organize your posts in content categories based on topics and schedule them to post alternatively throughout the week. This way, you will easily diversify your content strategy and schedule all the posts within a category at once.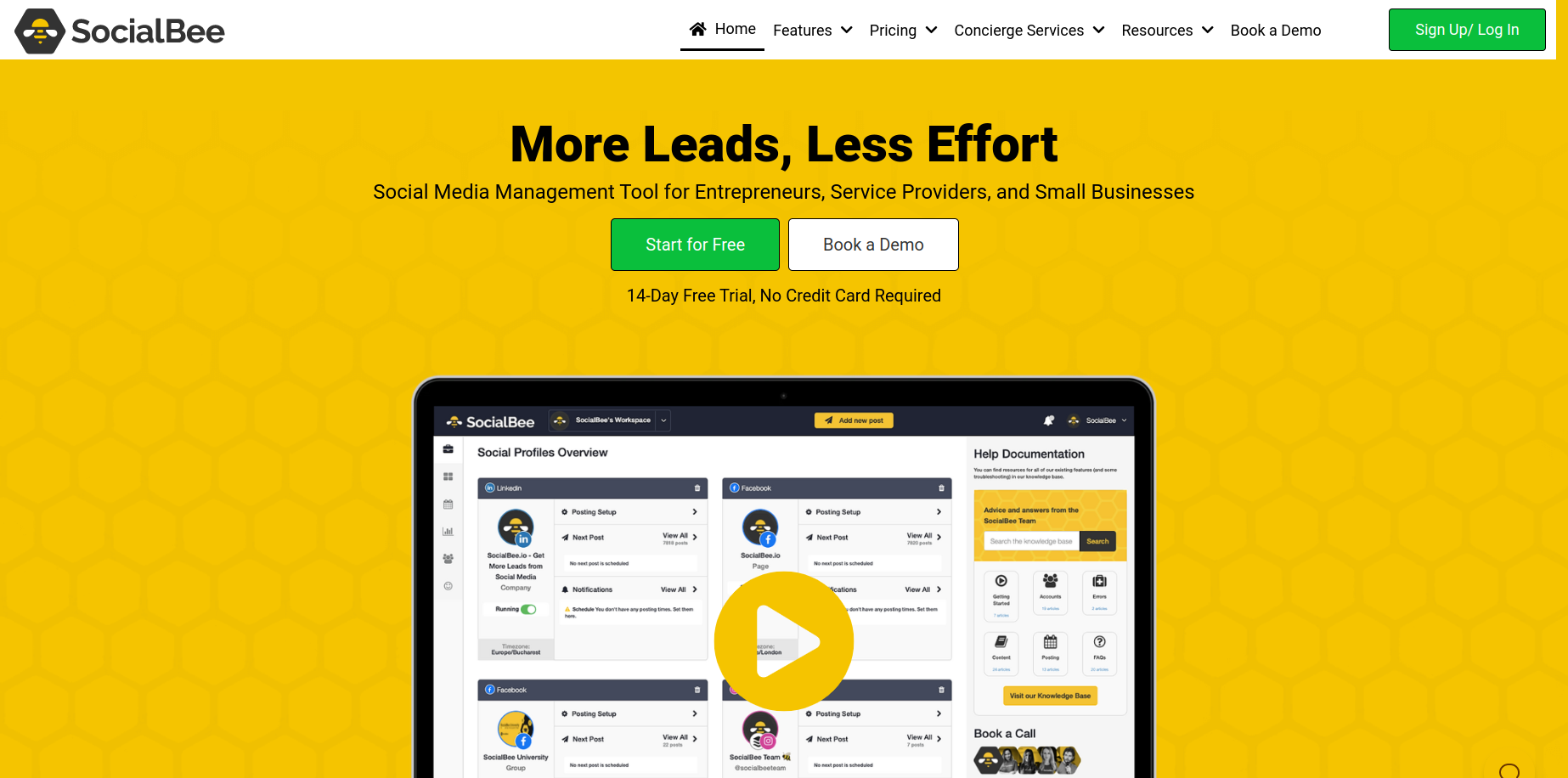 Also, you can re-queue individual posts or entire categories to make sure you make the most out of your evergreen content. Moreover, if you don't want your time-sensitive posts to be reshared, you can simply expire them at a specific date or after several shares.
With SocialBee, you can schedule and post content on the following social media platforms: Facebook, Twitter, Instagram, LinkedIn, Pinterest, Google My Business, and TikTok. SocialBee Plans start at $19 per month.
8. HubSpot
HubSpot is one of the most notable names on the list offering a top-notch social media posting app as part of their all-encompassing marketing solution. It allows content posting, monitoring and performance measurement across multiple platforms and lets you stay in touch with customers throughout your digital channels. It also provide approval workflow feature that helps to improve collaboration and productiviy.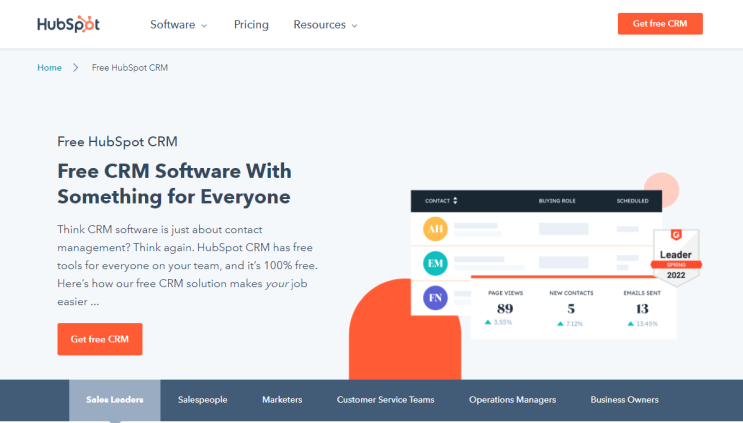 Since it comes with an integrated CRM solution as well, it allows you to sync customer relationship efforts with social media and generate holistic results. They offer a free plan that is perfect for small businesses.
Conclusion
Using a social media scheduling tool and management solution is undoubtedly an inevitable proposition for B2B companies today. The right solution will allow businesses to effectively nurture leads and manage customers, without causing irate people across different platforms. The use of social media is only going to increase rapidly over the coming months. Adopting a common tool like HipSocial would indeed be the wisest thing to do.
What Makes the Best Social Media Management Tool?
#1
Manage all social media channels in one place
#2
Add unlimited projects for multiple clients
#3
Create and publish posts on all social media channels
#4
Configure multiple streams like Twitter pages, Instagram posts
#5
Plan and schedule bulk social media posts
#6
Access reports for a detailed overview of day-to-day accomplishments
#7
Fetch content, images from various sources using web scraper
#8
Integrate with various third-party applications like CRM, social media apps and more
#9
Unbelievable pricing - the lowest you will ever find
#10
Everything your business needs - 50 apps, 24/5 support and 99.95% uptime
Join the SaaS Revolution
All-in-One Suite of 50 apps

Unbelievable pricing - ₹999/user

24/5 Chat, Phone and Email Support