10 Best Facebook Post Scheduler Tools for Your Business
Facebook is one of the important social media platforms. Here is a list of 10 best Facebook post scheduler tools to help you increase your engagement and reach.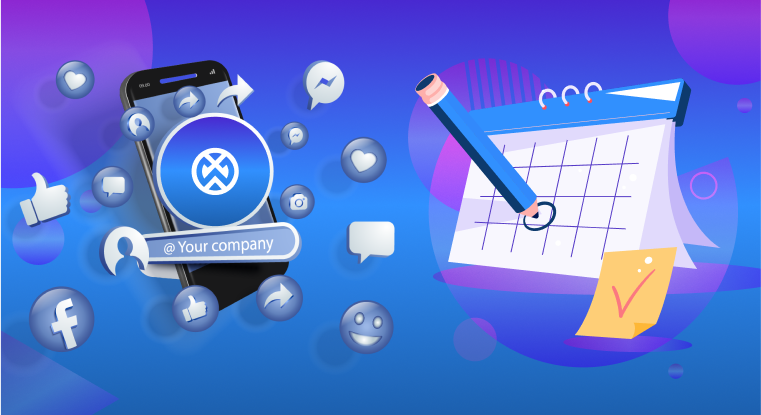 A Facebook post scheduler keeps you organized as it helps share, manage, and schedule posts with a few clicks. You can select the date and time when the specified post has to go live and leave it to the scheduler to complete the task on the given day.
What is a Facebook Post Scheduler?
A Facebook post scheduler allows you to create content in advance for all upcoming media marketing campaigns on the social media platform. The scheduler helps you schedule posts on personal profiles, groups, and pages at your convenience. You can sign up, connect with your Facebook accounts, and start scheduling your posts using a Facebook scheduler tool.
How Does a Facebook Post Scheduler Help Your Business?
Facebook is a large platform with an active user base and a potential for business growth. A post scheduler helps you automatically post content on the platform that can lead to an increase in engagement numbers. The scheduler prompts you about the best times for reaching out to your target audience to help you succeed in your business strategies. You can also analyze your best-performing posts using the scheduler and create the same impact with similar posts. A scheduler tool helps you add media to your posts and respond to comments of prospective clients and customers that can enhance your business's productivity and efficiency.
List of 10 Facebook Post Scheduler Tools
Organizations can choose Facebook as a social media marketing platform to enhance their businesses and attract prospective customers. The organizations can send messages or promote their brands via posts that can get scheduled in advance using a Facebook scheduler tool. Here are the best Facebook post scheduler tools that you can use to share posts and promote your business.
1. HipSocial
HipSocial is a well-known social media scheduler and an all-in-one social media management tool. The tool also includes Facebook scheduling services and provides the best relevant services to replace time-consuming tasks.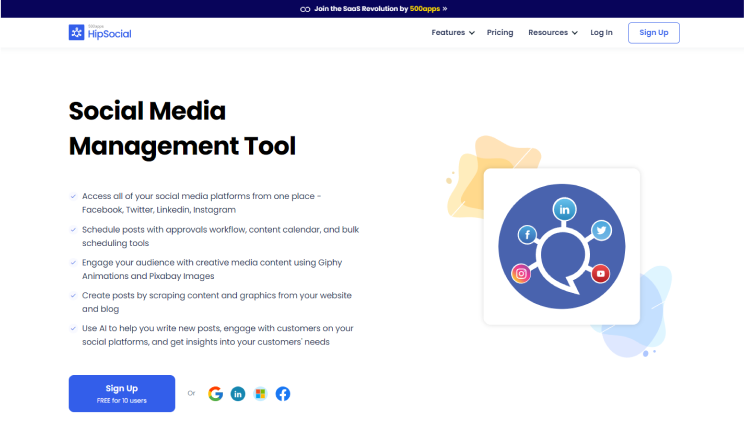 HipSocial has a well-organized dashboard to help you schedule Facebook posts. The best part about HipSocial is that you can publish and analyze your posts anytime without hassle. Its agile and sustainable features help you build your brand and increase its visibility by enhancing sales and marketing tactics. HipSocial provides you with the best scheduling services at an affordable rate.
Here are the features of HipSocial:
Gives you access to all social media platforms like Facebook from a single place.
Helps you schedule posts with a content calendar, workflow approval, and various bulk scheduling tools.
Provides creative media content using Pixabay images and Giphy animations to keep your audience engaged.
Creates posts by extracting relevant content and graphics from your blogs and websites.
Uses artificial intelligence (AI) to help you create posts, get insights on your customer needs, and engage with them on multiple networks like Facebook for better reach.
Pricing: 14 Day Trial, $14.99/month
Boost your Social Media Marketing Efforts Sign Up 14 Day Trial
2. Circleboom
Circleboom is one of the most trusted and affordable Facebook post scheduler tools that help design, automate, plan, and schedule your posts on a single platform. You can quickly create and design your content on the tool's intuitive dashboard with multiple features. The handy and easy publishing tools help you post and schedule your Facebook posts at the decided time. You can also schedule your posts from multiple accounts. Circleboom's features help keep your Facebook account fresh and updated.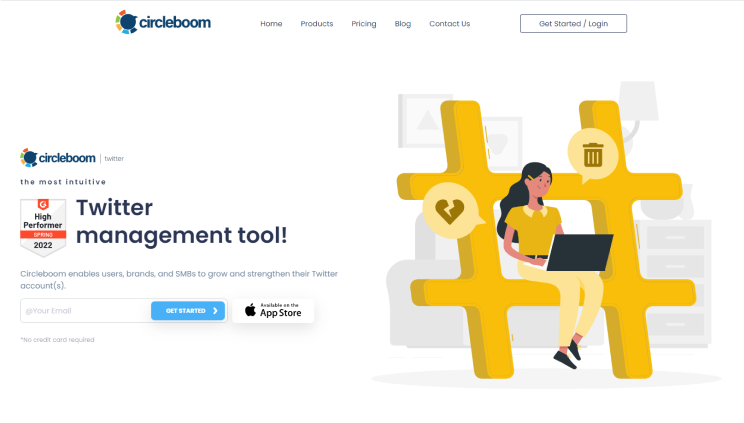 Here are the Features of Circleboom:
Provides a queue scheduling feature to help you set time intervals and automate posts.
keeps the features simple so that the users and the clients understand them.
Creates intuitive product designs so users can use them without prior information.
Develops the right feature sets needed for scheduling Facebook posts.
Makes it easy to plan a content calendar and schedule posts accordingly with multi-account manager
Gives special design tool with multiple templates and images for better post engagement.
Enables the creation of custom post designs for Facebook and other social media platforms.
Allows for automating and scheduling bulk posts.
Helps connect RSS feeds to multiple accounts.
Pricing:
Pro: $15.83/month
Premium: $34.99/month
Business: $79.99/month
Enterprise: $149.99/month
3. Skedsocial
Skedsocial is a good tool for automatically posting stories, images, carousels, and videos on Facebook. The tool automatically posts for you on social media and has unique scheduling features. Skedsocial is a fast software and has a user-friendly interface. It also provides a social media calendar for post-publishing plans.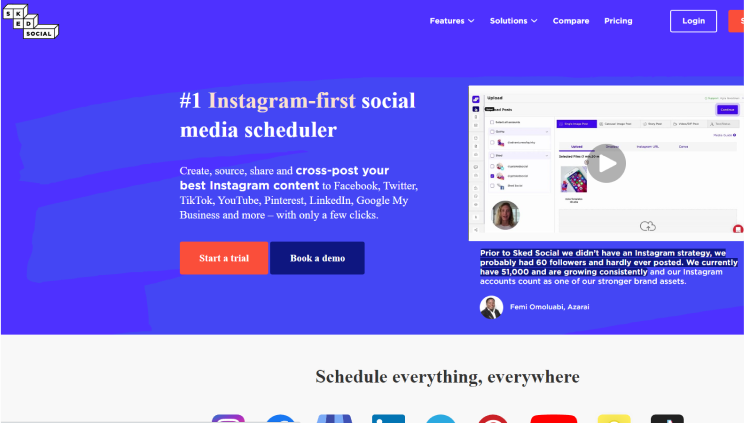 Here are the Features of Skedsocial:
Publishes posts with the help of its 'auto-posting' feature so that you do not have to wait for notifications to post on a specific day.
Allows auto-posting on Facebook and other social media platforms.
Schedules the posts with user tags, product tags, hashtags, location tags, etc., for more sales and engagement.
Helps visually plan a Facebook feed so that you get an idea of how it will look days, weeks, or months before posting.
Allows you to drag and drop the feed, making it easier to publish.
Provides a customizable link on your profile page that directs your followers where you want them to go.
Includes an social media analytics feature that can provide vital insights for up to 2 years.
Pricing:
Fundamentals: $25/month
Essentials: $75 /month
Professional: $135/month
4. Iconosquare
Iconosquare is a one-stop solution for social media management that offers analytics, scheduling, and a management platform for various agencies and brands. The tool enables easy and advanced social media scheduling on various platforms like Facebook. The best part about the tool is that you get a 14-day free trial to get accustomed to its features. You can schedule an image or a video on Facebook and other social media platforms with Iconosquare.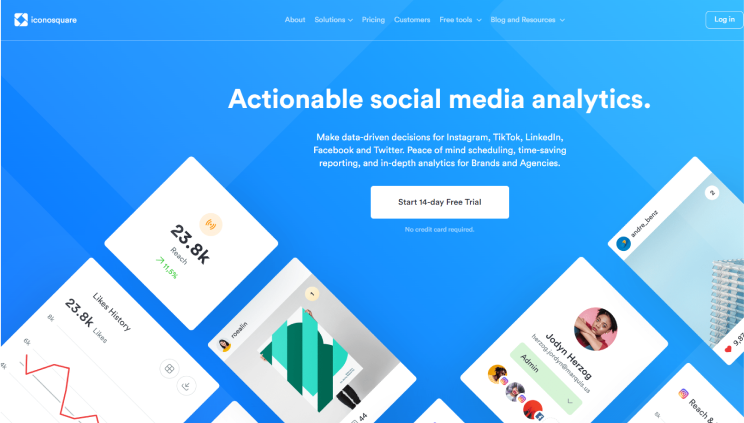 Here are the Features of Iconosquare:
Allows you to make insightful data-driven decisions for Facebook and other platforms based on intelligible analytics.
Enables intuitive scheduling to help you work on posts that work the best for your sales and marketing engagement.
Allows you to save time by reporting posts that work the best for your business.
Gives an in-depth analysis of the Facebook post to agencies and brands so that they can assess their past errors and work towards developing better strategies.
Gives a customized dashboard to visualize the metrics significant for a brand and the scheduled reports to keep a business organization at the top of its game.
Allows you to manage multiple social media profiles from a single dashboard.
Pricing:
Pro: $49/month
Advanced: $79/month
5. Crowdfire
Crowdfire provides social media services ideal for Facebook post-scheduling activities. The tool helps you discover and schedule your content and manage multiple social media accounts from a single platform. The tool is best for automation tasks and helps you get the desired followers within a short period. You can schedule and publish your Facebook posts from a single platform with content scheduler.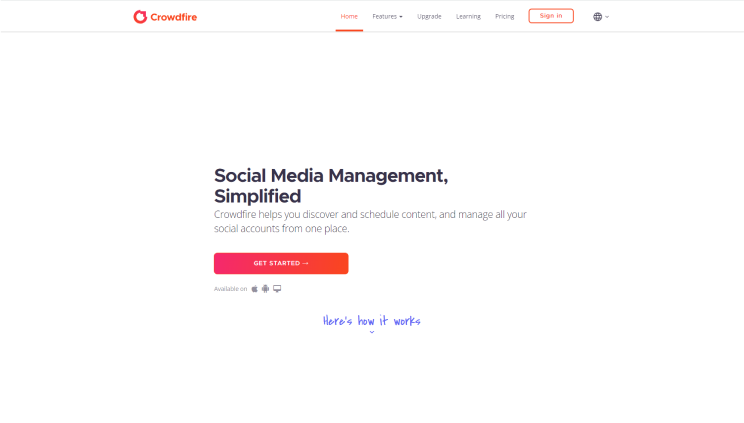 Here are the Features of Crowdfire:
Helps you discover unique content, articles, and images that depend on your topics of interest to attract the audience.
keeps your timeline buzzing by helping you share relevant content on Facebook and other social media profiles.
Enables you to publish content from your own account, site, or blog to enhance your sales and marketing strategies.
Helps you pre-schedule your Facebook posts in advance and automatically publish them at the best time chosen by you.
Helps you customize your posts for Facebook and other social media profiles so that you do not have to take the headache of creating separate posts for each individual network.
Includes a chrome extension for sharing articles with users.
Allows you to add your RSS feeds to multiple accounts.
Pricing:
Plus: $7.48/month
Premium: $37.48/month
VIP: $74.98/month
6. Socialoomph
Socialoomph is a Facebook scheduler tool that helps you manage and publish posts. The tool does not have other options like monitoring or analytics. So, Socialoomph focuses specifically on scheduling posts, and many consider it one of the best scheduler tools. The tool is one of the fastest schedulers in the business currently. It allows you to manage your social posting and clients in a single account.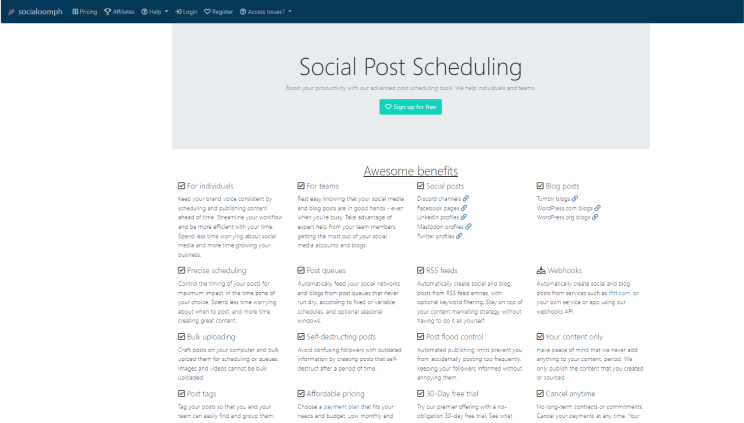 Here are the Features of Socialoomph:
Helps you keep your brand voice consistent by publishing and scheduling your posts ahead of time.
Allows you to control your post timings according to the time zone of your choice to have maximum impact on the audience.
Allows you to create multiple posts and upload them in bulk for queues or scheduling on Facebook. However, you cannot bulk upload images and videos.
Helps tag your posts so that you and your team members can find them easily at your convenience.
Helps you feed your social media networks from post queues according to variable or fixed schedules.
Allows you to self-destruct posts to avoid confusing your followers with outdated information.
Allows you to create social posts using RSS feed entries.
Pricing:
Business Suite: $55/month
Professional Suite: $25/month
Advanced Suite: $15/month
7. Buffer
Buffer is one of the best professional tools to schedule your Facebook posts which has been in the business for a long time. The social media management helps you collaborate, plan, and publish relevant content that helps drive growth and meaningful sales engagement for your brand. Buffer has a post-scheduling dashboard which is easy to use for all users. You can plan your posts for Facebook or other platforms from a single place. Buffer provides a fair price for its services and is also the oldest post scheduler in business.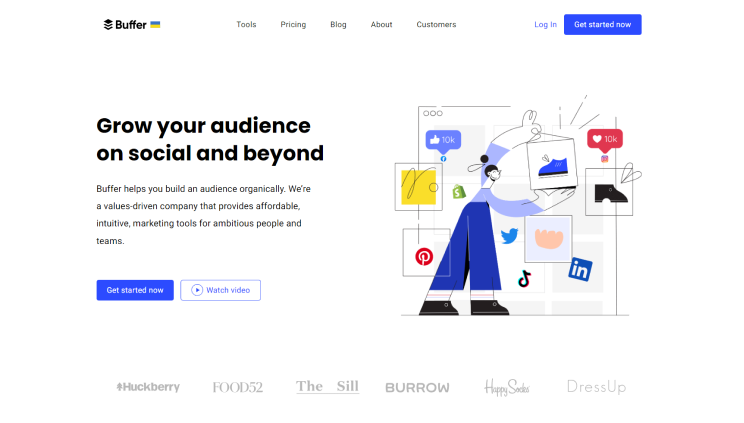 Here are the features of Buffer
Helps you build your audience organically by providing intuitive and affordable marketing tools.
Helps customers easily find your brand by analyzing, publishing, engaging, and celebrating together.
Helps you measure your social media performance and see what works best for your brand.
Enables you to deliver engaging content based on various metrics to increase brand visibility and awareness.
Helps you plan and collaborate on your campaigns by scheduling your Facebook posts at your convenience.
Includes hotkeys and labels to help you skip to significant comments and respond to them quickly.
Pricing:
Essentials: $5/month
Team: $10/month
Agency: $100/month
8. Planable
Planable enables you to publish Facebook posts in real-time or schedule them for later use. The tool's main function is to schedule relevant content on social media platforms. You can get various unique options on Planable, like sending posts to Facebook ads on messenger and saving your posts as a draft on your account. The best part about the tool is that you can have all the visually rich and organized social media content cumulated in a single place.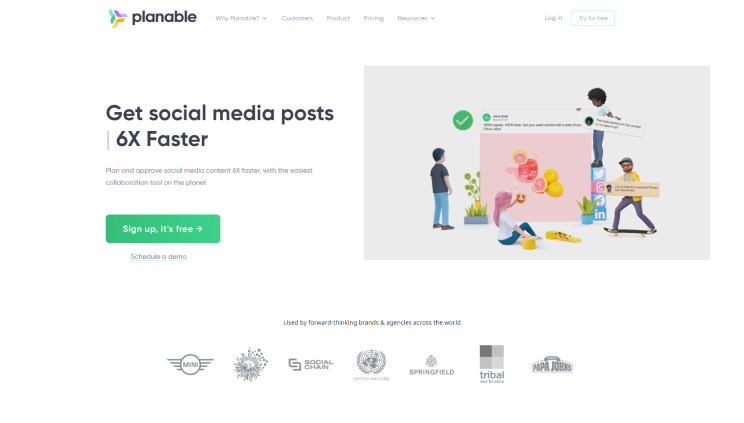 Here are the Features of Planable:
Allows you to approve and plan social media content faster with easy collaboration tools.
Makes content collaboration fast so you can concentrate on other significant tasks.
Allows you to create various unique and relevant posts that look live versions.
Allows you to organize and prioritize your posts and schedule them at your convenience.
Provides a visual calendar that is perfectly organized to let you know about your post-scheduling plans.
Provides you with four different views for your Facebook posts – feed view, calendar view, list view, and grid view.
Allows you to give and get feedback on the Facebook comments.
Enables you to get easy approvals and real-time updates on your posts.
Pricing:
Basic: $11/user
Pro: $22/user
9. agorapulse
agorapulse helps manage and publish social media posts on various platforms like Facebook simultaneously from the same dashboard. You cannot consider it a mere tool for scheduling Facebook posts because Agorapulse has various other specialities to help build your brand and increase its visibility. It includes social media monitoring, reporting, publishing, workflow approval and offers its services at a low price.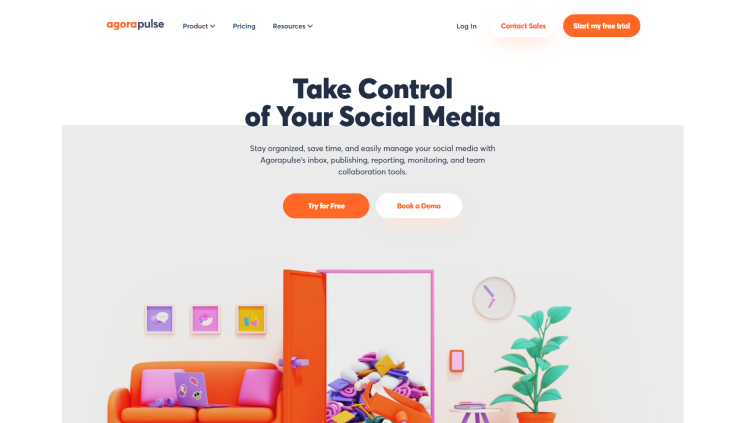 Here are the Features of agorapulse:
Helps you take control of your account and stay organized by providing access to various social media tools.
Includes various powerful features to provide easy-to-use solutions for publishing and scheduling your Facebook posts.
Allows you to manage your social media messages, reviews, and comments from a single place.
Allows intuitive features to help you collaborate, plan, and schedule relevant posts for Facebook and other social channels.
Helps you discover insights and trends related to your brand and competitors.
Gives you insightful analytics on your Facebook posts and feeds to help you understand what works best for your brand.
Pricing:
Pro: $79/month
Premium: $199/month
10. Loomly
Loomly is a tool that aids in planning and scheduling your Facebook posts at your convenience. The tool's primary function is scheduling content for Facebook and other relevant social media platforms. Loomly includes automated publishing tools to help schedule your ads and posts in advance so that you can concentrate on other significant business tasks and activities. The tool also offers you a 15-day free trial of its services to ensure what works best for your brand.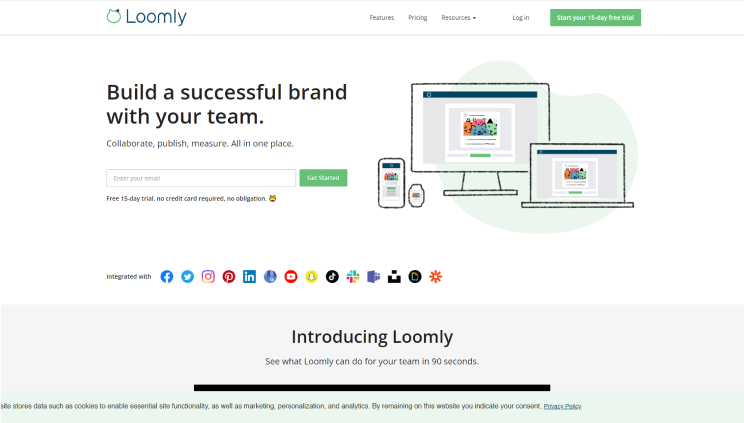 Here are the Features of Loomly:
Enables you to collaborate efficiently with clients and customers to build a successful brand.
Makes content and brand management easy for marketing teams with unique tools and software.
Allows you to manage your social media content from a single platform.
Notifies you every time someone comments on or updates a piece of content with the help of email, push, slack, or team notifications.
Provides a calendar view and a list view to help you preview your posts before publishing or scheduling them on Facebook.
Gives you ideas for your posts depending on the trending topics, data-relevant events, RSS feeds, and other social media best practices.
Pricing:
Base: $26 /month
Standard: $59 /month
Advanced: $129 /month
Premium: $269 /month
Summing It Up
A Facebook scheduler tool has multiple benefits that can help a brand build its image among the target audience to make them loyal customers in the future. Marketing professionals understand that it is important for them to stay on top of the game to increase brand visibility, especially on social media platforms like Facebook.
The social media scheduling tool and software allow you to publish and schedule posts at your convenience. The tools allow your posts to get published at a particular time without requiring your physical presence, allowing you to spend more time creating better content, thus increasing brand awareness.
What Makes the Best Social Media Management Tool?
#1
Manage all social media channels in one place
#2
Add unlimited projects for multiple clients
#3
Create and publish posts on all social media channels
#4
Configure multiple streams like Twitter pages, Instagram posts
#5
Plan and schedule bulk social media posts
#6
Access reports for a detailed overview of day-to-day accomplishments
#7
Fetch content, images from various sources using web scraper
#8
Integrate with various third-party applications like CRM, social media apps and more
#9
Unbelievable pricing - the lowest you will ever find
#10
Everything your business needs - 50 apps, 24/5 support and 99.95% uptime
Join the SaaS Revolution
All-in-One Suite of 50 apps

Unbelievable pricing - ₹999/user

24/5 Chat, Phone and Email Support