5 Best Social Media Analytics Tools for Your Business
In social media getting data is quite time consuming. This blog discusses about best social media analytics tools and how will it help you get those data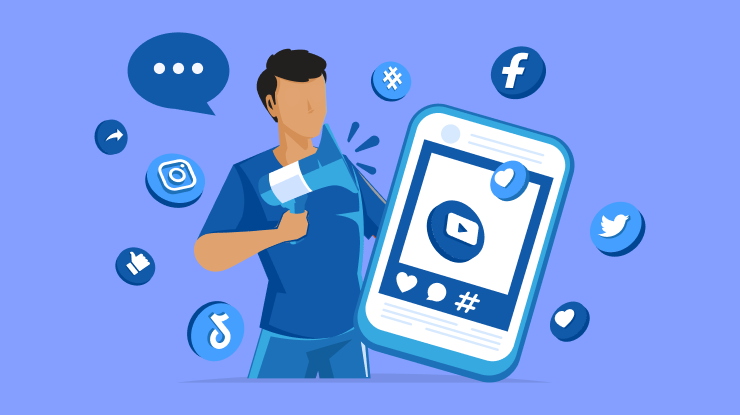 Social media analytics tool helps increase your presence across multiple platforms. You also get to know the social media posts with the most positive views and improve your content depending on the same line, allowing you to understand the content that drives more user engagement and improves brand visibility.
What is a Social Media Analytics Tool?
A Social media analytics tool is software that monitors, assesses, and improves social media performance. The analytics tool gathers and helps make sense of web performance data produced on various social media platforms and sites. The tools include data visualization techniques and unique graphical dashboards to give users a clear understanding of their social media presence.
Social media analytics are a significant part of successful campaigns run by various organizations. Social media experts can use the tools to track and determine the performance of social media marketing campaigns like sales, sentimental analysis, customer service, etc.
How Does Social Media Analytics Tool Help You to Improve Social Engagements?
There are several ways to improve social media engagement on any social media platform. However, social analytics tools are the best ways to enhance engagements, here is why.
Help derive customer sentiments towards products and services.
Measure responses on social media and other communication channels to understand customer expectations.
Identify the high-quality features of products and services.
Uncover the effectiveness of competitor accounts and enable the brands to build visibility.
Ensure a deep analysis of social media channels so that the brands improve how they measure customer demands, optimize resources, and reduce costs.
Top 5 Social Media Analytics Tools
Social media analytics tool shows all purchases and positive turnovers directly from social media sources. The analytics tool uses the metrics to analyze whether a social media campaign is going well. We will be looking into the best social analytics tools and understanding their features.
1. HipSocial
HipSocial is an efficient Social media analytics tool that helps enhance engagement and provides deep-rooted analytics for multiple social media platforms. The analytics tool also enables powerful cross-channel automation strategies to make every social media campaign successful. HipSocial enables deep social media listening capabilities to help you track real-time customer sentiments.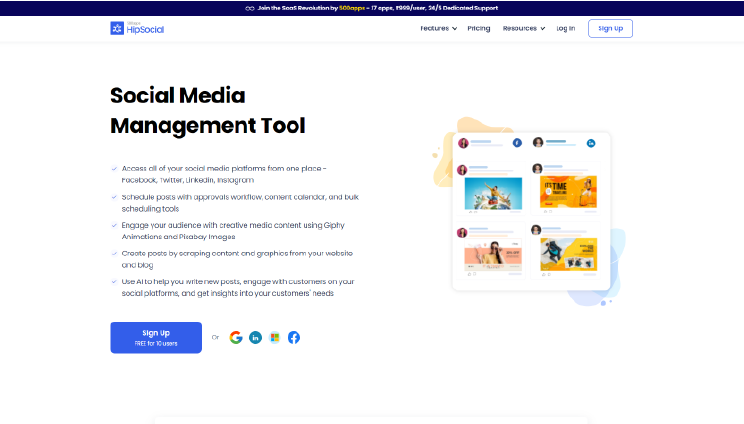 The tool helps increase a brand's engagement with the audience and increases its visibility and sales in the long run. HipSocial has a powerful feature - the Smart Finder that allows you to focus and work on topics that work for the audience by curating various posts, articles, and videos.
Here are Some Other Features of HipSocial:
Allows you to manage different social media accounts from a single platform.
Helps you manage posts from different time zones with content calendar.
Helps extract relevant content and data from various websites with web scraping.
Allows you to manage unlimited projects through influential social media efforts.
Enables a strong media interaction across various platforms by helping users engage with stunning images and graphics.
Helps you to improve team collaboration and reduce errors with approval workflow
Gives you insightful social reports using its metrics and helps you monitor social networks.
Helps you monitor your social media posts for better user engagement.
Pricing: 14 Day Trial, $14 .99/month
Boost your Social Media Marketing Efforts Sign Up 14 Day Trial
2. Sprout Social
Sprout Social is the one-stop tool for your needs if you are looking for cross-channel social analytics. The tool helps you analyze your performance on a single network and compare results across multiple social networks. From tracking Facebook Page impressions and Twitter link clicks to measuring Instagram follower growth and evaluating LinkedIn engagements, you can do everything from a single location under Sprout Social.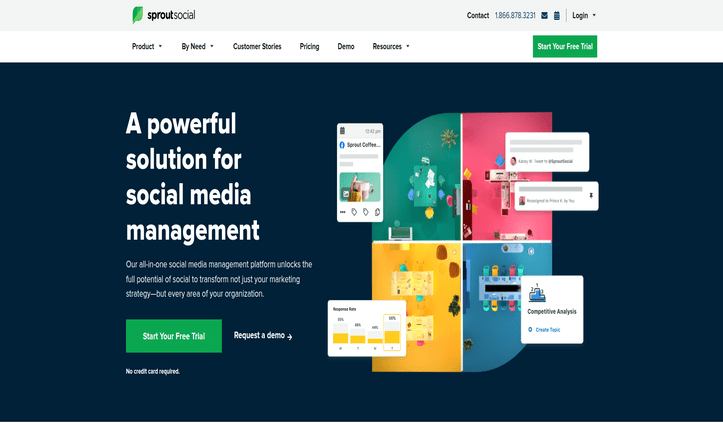 The tool helps you organize data and share it using easy-to-understand report presentations. Sprout Social also includes Premium Analytics to help create your custom engagement report and tailor your organizational key performance indicators (KPIs).
Here are the Features of Sprout Social:
Allows you to access social analytics and schedule messages across various social media profiles.
Provides measures to scale your business or brand based on social engagements.
Helps build your customized publishing calendar and analyze social performances.
Helps connect with your customers within a few minutes.
Allows you and your team members to plan everything ahead of a significant project or plan.
Helps increase engagements with Optimal Send Time for all social media posts.
Allows the scheduling of various posts across multiple social media platforms.
Pricing:
Standard: $89 per user/month
Professional: $149 per user/month
Advanced: $249 per user/month
3. HubSpot
HubSpot is one of the best analytics tools to help you connect social media performances with revenue and business growth. The friendly platform allows you to report on the success of your social strategies across various channels and measure campaign performance. HubSpot includes multiple analytics tools to offer expansive visuals and graphs that break down the numbers using platform features like impressions, session lengths, audiences, etc.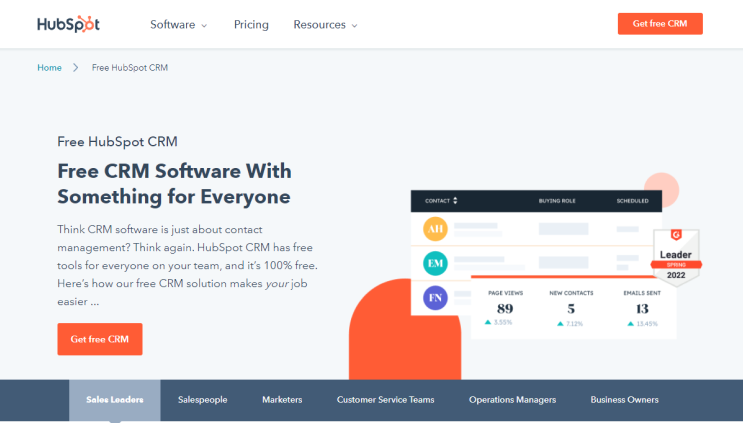 Here are the Features of HubSpot:
Helps you grow your brand visibility, converts visitors, and runs inbound marketing campaigns on social media channels.
Gives you deeper insights into lead prospects and closes deals faster.
Gives you an insight into social media-specific metrics and complete customer journeys.
Provides you with information about the marketing tactics that work the best for your business.
Includes time-saving tools to help you prioritize social media interactions.
Allows you to publish content on multiple networks from one location.
Pricing:
Starter: $45/month
Professional: $800/month
Enterprise: $3200/month
4. Curalate
Curalate is among the best analytics tools for direct social selling. The analytics tool serves as an analytics element and a hybrid storefront for business organizations that want to maximize their sales through various social media platforms. Most brands can benefit from the Curalate feature of boosting social sales by adding specific Like2Buy links on the bio of social media accounts.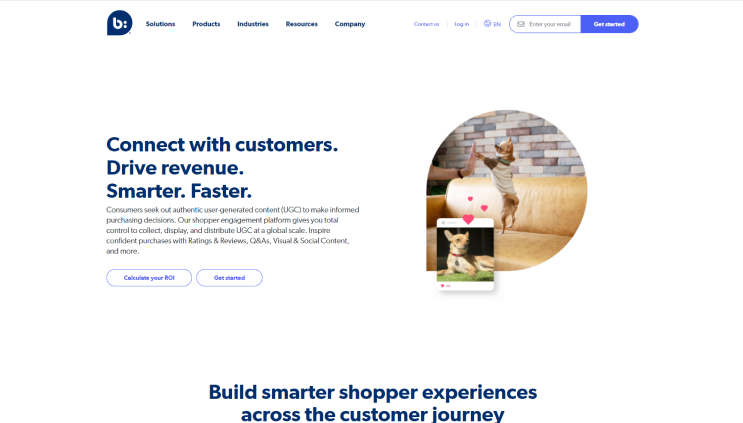 Curalate is one of the best tools to enhance your brand visibility on platforms like Instagram that redirect customers to social storefronts for shopping once they click on the links in the bio.
Here are the Features of Curalate:
Empowers business organizations to understand which products and services score the most sales and clicks.
Tracks mentions and product tags to analyze the performance of various user-generated content campaigns.
Helps scale your business and brand using the social media engagement metrics on multiple social media platforms.
Gives you meaningful insights to help improve your products and services, upgrade your marketing strategies, and reduce return rates.
Helps you respond to client or customer queries and turns them into trusted prospects by building loyalty.
Allows you to create user-generated content and build brand visibility.
(Pricing is not available for this tool).
5. Keyhole
Keyhole is best known for including hashtag analytics to expand your company's content reach across various social media platforms. The [social media management(https://hipsocial.com/social-media-management) provides real-time performance analytics of campaign-specific hashtags on platforms like Twitter and Instagram. Keyhole allows brands to promote their products and services during peak times and understand the tags that work best for all followers.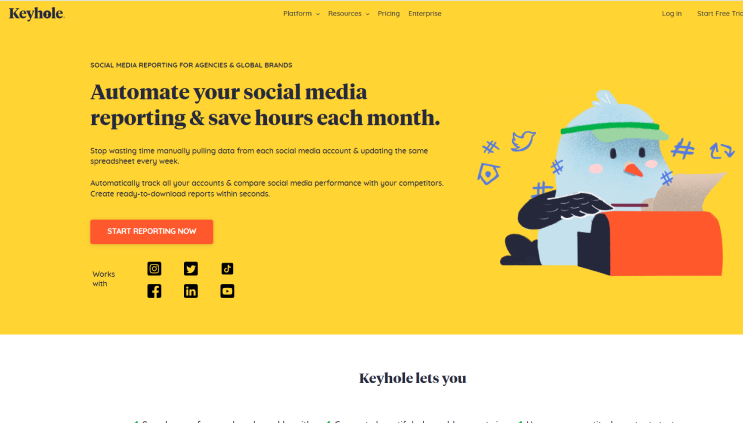 Keyhole is one of the best ways to track social media campaigns and help brands measure social return on investments (ROIs). From data entry and social campaign analysis to long-term campaign performances and promotions, Keyhole takes care of everything from a single platform.
Here are the Features of Keyhole:
Helps automate social media reporting and saves time by preventing the need to pull data manually from each social media account.
Allows you to automatically track your accounts and compare your social media performance with other competitors.
Enables you to create ready-to-download reports within a short period.
Helps simplify your social media campaign reporting by ensuring zero errors.
Allows you to download reports in multiple formats like PDF and XLS.
Uncovers competitor content strategies and lets you know what works for them.
Pricing:
Basic: $49 per month
Plus: $99 per month
Professional: $199 per month
Summing It Up
You must use analytics tools to analyze your social media campaigns if you want to enhance brand visibility and improve user engagement. The analytics tools give you meaningful insights into the posts that work best for you, your competitors' strategies, curated content, etc., thus providing you with a way to enhance your presence on social media platforms. There are several tools available in the market that provide other features which include the analytics feature, One of them is HipSocial a social media management tool that provides various features which include social media listening, scheduling posts, content calendars and analytics tool.
What Makes the Best Social Media Management Tool?
#1
Manage all social media channels in one place
#2
Add unlimited projects for multiple clients
#3
Create and publish posts on all social media channels
#4
Configure multiple streams like Twitter pages, Instagram posts
#5
Plan and schedule bulk social media posts
#6
Access reports for a detailed overview of day-to-day accomplishments
#7
Fetch content, images from various sources using web scraper
#8
Integrate with various third-party applications like CRM, social media apps and more
#9
Unbelievable pricing - the lowest you will ever find
#10
Everything your business needs - 50 apps, 24/5 support and 99.95% uptime
Join the SaaS Revolution
All-in-One Suite of 50 apps

Unbelievable pricing - ₹999/user

24/5 Chat, Phone and Email Support